RUSSIA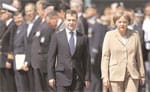 Russia's new president Dmitry Medvedev, on his first international outing, with German leader Angela Merkel.
Newly anointed Russian president Dmitry Medvedev used his first foreign visit—to Germany—to signal the Kremlin's continued tough line on international affairs, underscoring his opposition to further NATO expansion. He also later blamed the United States and its banks for plunging the world economy into financial crisis. On another front, Medvedev has indicated more liberal tendencies on domestic issues than his predecessor—and current prime minister—Vladimir Putin, calling for more press freedom in Russia and greater leeway for non-governmental organizations. Medvedev also has said he will make cleaning up Russia's notoriously corrupt courts a priority and indicated an intention to address endemic corruption. But questions remain about the true center of power, with Putin showing few signs of relinquishing the disproportionate share of the spotlight that he continues to dominate.
The battle between the British oil giant BP and its Russian partners for control over Russian oil major TNK-BP escalated, with the Russian side calling for the dismissal of the BP-backed chief executive of the venture. Russia's interior ministry waded into the battle, launching an investigation into tax issues at the company. Gazprom has long been fingered as the most likely purchaser of a stake in the company, from one or both partners.
In the latest chapter in the battle for control over Norilsk Nickel, Russia's largest mining company, the company's largest shareholder agreed to team up with Metalloinvest, another metals company, to form a national champion that would likely in turn merge with the country's largest aluminum maker, Rusal. In an additional sign of Russia's growing might on the international metals stage, steel producer Severstal made a bid to further expand its rapidly growing US footprint by launching a $1.1 billion bid for American steelmaker Esmark.
Russian markets cheered the surge in oil prices, and continued signs indicate that the Kremlin intends to lighten the tax load on oil firms.
Kim Iskyan