CHINA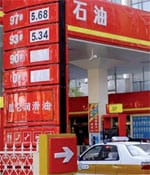 Fuel up: China's rising inflation rate is causing official concern.
China and Taiwan agreed in June to open representative offices in each other's capitals to promote better communication between the two governments. The agreement was reached during the first formal talks between representatives from the two governments since 1999. A direct-flight service across the Taiwan Strait will also begin in July as a result of another agreement reached during the talks. Outside of special holiday periods, direct flights between mainland China and Taiwan have been prohibited since 1949. The flight service will facilitate business travel and provide greater access to Taiwan for mainland Chinese tourists.
China's consumer price index increased by 7.7% in May, China's National Statistics Bureau reported on June 12. The index rose by 8.5% in April, its fastest rate in almost 12 years. The lower rate may signal some lightening of inflationary pressures in China, after floods, animal diseases and other factors pushed up food prices around the country in the past 18 months. China's central bank has taken several steps to relieve such pressures, increasing the proportion of deposits that must be kept in bank reserves to a record 17.5%.
China Unicom, China's second-largest mobile phone company, will acquire one of the country's largest fixed-line operators and sell one of its mobile networks to fixed-line phone company China Telecom. The two moves mark major steps in a government-led restructuring of China's telecom industry. Currently, China Unicom is the only major competitor of China Mobile, the world's largest mobile phone operator, with nearly 400 million subscribers. The industry shake-up will allow fixed-line operators such as China Telecom to compete in the mobile phone business.
Parents of children killed in a collapsed school near the epicenter of southwestern China's May 12 earthquake called off a memorial service in June after local officials warned them against holding the event, The New York Times reported. Some parents have accused local officials of siphoning money from school building projects, resulting in poorly constructed schools that easily crumbled during the earthquake. Parents have held memorial services and demonstrations across southwestern China.
Thomas Clouse