CHINA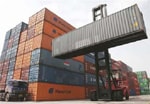 China's exporters are feeling the effects of a global economic slowdown.
China's central bank released three surveys—of banks, consumers and companies—in late September reflecting falling confidence in the country's economy. According to the survey of companies, export orders fell to their lowest level since China adjusted its exchange rate policy in 2005. The domestic order index, a measure of expected domestic demand, fell to 9.1%, 3.7 percentage points lower than the previous quarter. This represented the largest decline in the past 10 years. Expected house purchases fell to the lowest level since the survey began in 1999, and current and future income confidence measures fell to their lowest levels since 2006, according to the households survey.
China suspended or canceled several meetings with the United States after the US announced plans to sell $6.5 billion in arms to Taiwan, a US Defense Department spokesperson said in October. The government in Beijing has vowed to bring Taiwan under its control, by force if necessary, while the US has pledged to help Taiwan in the event of an attack by China. The arms deal, which still requires approval from Congress, will not influence China's participation in talks concerning nuclear programs in North Korea and Iran, the US official said.
China will impose strict controls on its dairy industry, the country's State Council declared, after dairy products contaminated with the chemical melamine killed at least four babies and sickened more than 54,000 children. Some Chinese dairy producers added melamine, which can cause kidney damage, to reduce costs and give misleadingly high protein test results. The government promised to punish companies.
US-based private equity firm Blackstone will pay $600 million for a 20% stake in chemical company China National Bluestar Group, the Chinese company said on October 6. The purchase marks the first significant Chinese investment for Blackstone, in which the Chinese government owns a 10% stake. Bluestar leads the Chinese market in production of industrial cleaning detergents and water treatment technology.
Thomas Clouse