GLOBAL EQUITY/DRS
PetroChina, China's largest oil and gas producer, added fuel to the fire of Shanghai's overheated stock market last month with its initial public offering on the mainland. The company's A-shares surged 163% in their $8.9 billion Shanghai debut, which raised the most money of any new listing globally so far this year.
While much was made of the fact that the surge in the price of its stock gave PetroChina a market capitalization of more than $1 trillion, displacing ExxonMobil as the world's largest company, the comparison was somewhat spurious. The state-controlled firm sold only a 2.2% stake in its Shanghai offering, which was insufficient to meet the appetite of retail investors on the mainland who are prevented from buying the company's shares in New York or Hong Kong, where PetroChina first went public in 2000.
Economists say that China has not been successful in sterilizing its currency intervention to slow the yuan's rise against the dollar and that the additional liquidity that leaks into the economy is pushing up share prices and contributing to inflation.
Meanwhile, PetroChina's H-shares fell 7.3% in Hong Kong on the same day it was making its spectacular Shanghai listing.
More than 50 years ago, Shanghai was the world's third-largest stock exchange after New York and London. Closed by the communists during the revolution of 1949, the Shanghai exchange was reopened in 1990 as part of Deng Xiaoping's efforts to reform the Chinese economy. In the following year, another stock exchange was set up in Shenzhen. With the PetroChina listing, Shanghai surpassed London by value and reclaimed the number-three spot, following New York and Tokyo.
The benchmark Shanghai composite index has more than doubled in value this year after doubling in 2006. Prime Minister Wen Jiabao has warned that the government will take steps if necessary to curb excesses in the market. "Preventing asset bubbles is like preventing inflation, and it is the government's responsibility to ensure a fair, healthy and transparent stock market," he said.
The Chinese government is considering allowing mainland investors to buy a limited amount of shares in Hong Kong, but it is delaying taking such measures for fear of triggering a stock collapse in Shanghai and Shenzhen.
PetroChina plans to use the proceeds of its Shanghai IPO to finance projects to boost its crude-oil output. The company announced in May that it made the country's largest crude discovery in decades off China's northeast coast. PetroChina says the Jidong Nanpu field, which is located in just 10 feet of water, has proven reserves of nearly 3 billion barrels. In addition, the company has announced other more recent discoveries.
Warren Buffett's investment company, Berkshire Hathaway, made a $3.5 billion profit on its recent sale of the bulk of its holdings in PetroChina. Buffett says the sale was based solely on price and was not related to the Chinese firm's parent's links to Sudan, which has been berated by Western governments for atrocities in its Darfur region. More than 85% of PetroChina's shares are held by China National Petroleum Corporation, or CNPC.
Foreign investors are not allowed to purchase shares on China's mainland exchanges, making it impossible to arbitrage significant price differences between Hong Kong and Shanghai.
PetroChina's Shanghai offering just barely surpassed an $8.88 billion offering in October by China Shenhua Energy, the country's largest coal producer.
Meanwhile, elsewhere, Citi last month listed its shares on the Tokyo Stock Exchange as it moved to take full control of Nikko Cordial, Japan's third-largest brokerage firm. Citi already held a 68% stake in Nikko Cordial, which it purchased earlier this year. Citi's common stock is also listed in New York and Mexico City.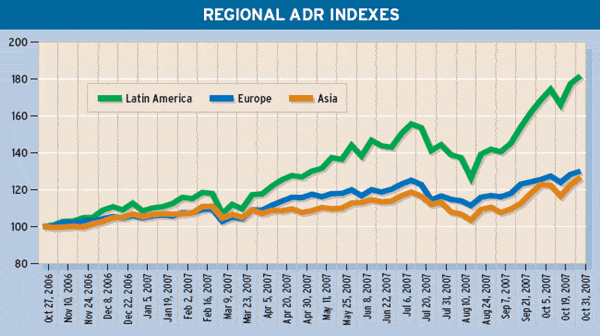 Source: The Bank of New York Mellon
Gordon Platt