NEWSMAKERS: ALBANIA
By Dan Keeler
As most of Europe's leaders tighten the screws on their battered economies, tiny Albania, one of the continent's poorest nations, is pushing ahead with an ambitious plan intended to substantially boost foreign direct investment flows.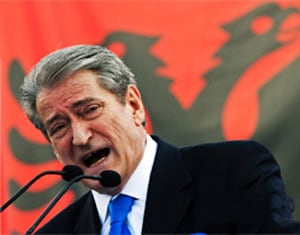 Sali Berisha pushes to boost FDI inflows
Speaking on the sidelines of the recent United Nations meetings in New York, Albania's prime minister, Sali Berisha, told Global Finance the country is using a combination of low taxes, heavy infrastructure investment and targeted investment incentives to lure foreign capital."Albania's fiscal burden is now among the lowest in Europe," Berisha says. The government has also spent as much as 10% of the nation's GDP on road construction over the past two years and has tried to improve the business climate, he adds.
It appears these efforts are paying off. According to UNCTAD, foreign direct investment increased by more than 300% between 2005 and 2010. Official statistics show exports also increased by 300%, while GDP growth held up between 3% and 4%.
Berisha's aim, though, is not just to boost the general health of the economy. He wants to "turn the country into a regional green-energy superpower." With contracts signed for around 220 new hydropower stations, the country is already well on its way to achieving that goal. "With the highest average elevation in Europe, we also have some spots that are prime locations for wind energy generation," says Berisha, "and we have the potential to become a European leader in solar energy generation."
Albania is also rich in natural resources, with significant deposits of chromium, nickel, copper and iron ore as well as some reserves of gold and oil, all of which the government is keen to see exploited. At the same time, Albania's tourism industry is growing strongly, with many visitors attracted by the combination of natural beauty and a rich cultural heritage. Tourist arrivals have grown more than tenfold, from 300,000 in 2004 to 3.5 million last year.
Some critics are concerned, however, that the government's determination to develop mining and power could cause serious environmental damage, a charge that Berisha dismisses. He asserts: "We believe in sustainable development. It is possible—and it is the best way. Why would we want to repeat the same mistakes the developed countries made?"