NEWSMAKERS: RUSSIA
By Kim Iskyan
Mikhail Fridman has overcome a lot of hurdles since his humble beginnings as a window-cleaning entrepreneur in Russia, just as the Soviet Union was unraveling.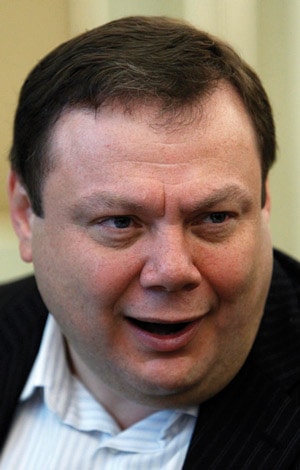 Fridman faces his most difficult maneuver yet
Photo Credit : REUTERS/SERGEI KARPUKHIN
As head of Russia's Alfa Group, an investment consortium spanning the oil, mobile telephony, food retailing and financial services sectors, Fridman today controls a personal fortune worth some $13 billion. But his late-May resignation from the chairmanship of TNK-BP, Russia's third-largest oil company, suggests that one of Russia's original oligarchs may be facing his biggest challenge yet.
TNK-BP is half controlled by global oil producer BP, and half by AAR—comprising the oil and gas assets of Alfa Group. Alfa's ownership is held by a group of Russian billionaires, including Fridman. Conflict has been the defining characteristic of the partnership with BP, which is by far Russia's most prominent joint venture. Problems bubbled to the surface in 2007, when AAR blamed BP for blocking TNK-BP's international ambitions. The dispute culminated in TNK-BP head—and current BP CEO—Bob Dudley's being barred from entering Russia.
After a truce of sorts, in 2011 BP said it was going to form another joint venture with state-controlled oil firm Rosneft, to explore Arctic properties. AAR said that TNK-BP should have first dibs on any new BP venture in Russia. A Swedish tribunal blocked BP's deal, and the relationship between AAR and BP seemed beyond repair. AAR is suing BP, and no dividend was paid in the first quarter because the board cannot achieve a quorum. Both AAR and BP now say they may sell their stake in TNK-BP. Fridman has applied similar slash-and-burn tactics with shareholders of VimpelCom, Alfa's key mobile telephony holding.
The billionaire has been careful about cultivating positive relations with the Russian government, but he may face Kremlin pressure to sell out to a state-controlled oil producer. Or he may look to exit Russia rather than endure what could be another 12 years of Putin's presidency and the administration's ever-tighter control on Russian assets.