MILESTONES: ASIA
By Thomas Clouse
The Association of Southeast Asian Nations took another step toward political cohesion in late July, agreeing jointly with China to nonbinding guidelines for settling competing territorial claims in the South China Sea.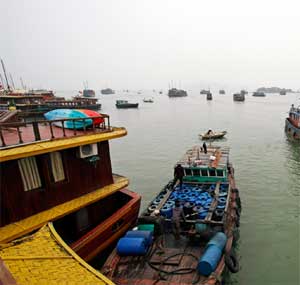 South China Sea—still in dispute
Leaders from ASEAN and China hailed the agreement as a breakthrough in relations after months of escalating tensions between China and ASEAN members—especially Vietnam and the Philippines.
The South China Sea contains some of the world's busiest shipping lanes and may hold major oil and natural gas deposits. Much of the recent friction stems from countries with competing claims trying to seek out and develop the area's natural resources. China, Vietnam, the Philippines, Malaysia, Brunei, and Taiwan all claim parts of the sea.
For the ASEAN, the agreement marks an important step toward political unity—complementing its already strong economic relationship.
Although China called for bilateral negotiations on a country-by-country basis, ASEAN members chose to create a groupwide pact, rather than to leave Vietnam and the Philippines to resolve their issues with China independently.
"Evaluating the ASEAN meeting, we see the group moving from neutrality to a new centrality," says Simon Tay, Chairman of the Singapore Institute of International Affairs. "This will require the group to be more engaged and proactive on issues including difficult situations, such as the Korean Peninsula and South China Sea."
The agreement does not, however, clarify any of the disputed territorial boundaries or offer any mechanisms for resolving competing claims. Joshua Kurlantzick, fellow for Southeast Asia at the Council on Foreign Relations, explains in a blog post: "The new deal is really just a commitment and guidelines for all countries attempting to work out rival claims, and it hardly guarantees that any of the nations are going to give up their demands over part of the Sea."
Evidence of further tension surfaced shortly after the agreement was reached, when China published an editorial in state-owned media calling on Southeast Asian nations to respect its claims and warning the Philippines about its recent buildup of maritime military equipment. The Philippines' foreign minister responded by calling China's territorial claims one of the biggest threats to peace in Southeast Asia.