MILESTONES: GLOBAL
By Anita Hawser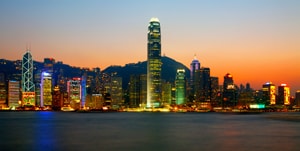 Hong Kong: One of the world's top-three finance centers
London and New York can rest easy. Despite the Dodd-Frank Act and other regulatory measures that threaten to split up banks, curb bankers' bonuses and limit banks' trading activities, London and New York are still the world's leading global financial centers, according to the eighth Global Financial Centers Index (GFCI 8) report. In the GFCI 7 both London and New York finished equal top after years of London's dominating the index. The latest index sees London restored to pole position with New York in second place.
While London and New York have stayed in relatively the same positions since the index was first published in 2007, the biggest risers in the latest index were Asian financial centers. Hong Kong has moved up the rankings to third place, and Shanghai has also entered the top 10 of the GFCI for the first time, with a ranking of six compared to a ranking of 11 in the previous survey.
"London and New York have long been considered the two top global financial centers," says Michael Mainelli, executive chairman of Z/Yen Group, which publishes the report. "The top Asian centers have been catching up for a while, but financial services professionals around the globe have been consistent in saying that Hong Kong now joins the other two leaders" to form the top three.
Frankfurt, which for years was challenging London as Europe's leading financial center, doesn't even feature in the top 10 this year, although it did manage to inch up from 13th to 11th position.
There was also a shifting of fortunes in the Middle East, with Dubai and Bahrain seeing their standings fall. Dubai skidded from equal 24th down to 28th, while Bahrain slipped from equal 41st to 42nd. Qatar on the other hand moved up two points from 36th to equal 34th.
The index, which is updated every six months, is based on data drawn from external indices (including corruption perceptions and transparency) and surveys of more than 1,800 financial services professionals. It highlights six main factors of competitiveness: people, business, environment, infrastructure, market access and general infrastructure.