MILESTONES: AZERBAIJAN
By Justin Keay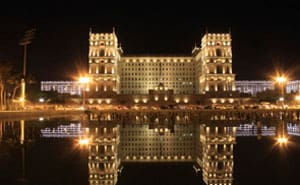 Baku: Enjoying the fruits of Azerbaijan's mineral wealth
Azerbaijan's parliamentary elections in early November ended in controversy, with critics claiming the opposition parties were prevented from being able to properly challenge Yeni Azerbaijan, the party of the authoritarian president Ilham Aliyev. In the event, the incumbent party won 71 of parliament's 125 seats, with some smaller pro-regime parties also winning seats.
Though they might not care to admit it, investors in what was one of 2009's fastest growing economies—GDP increased 9.3% in a year most other economies contracted—are probably breathing a sigh of relief. Despite human rights concerns, Azerbaijan today is tolerant and secular and very much open for business—on its own terms.
According to government figures, cumulative investments in Azerbaijan in the almost 20 years since independence now top $90 billion, while in FDI terms it is a leader in the former Soviet CIS. With European countries desperate to reduce their energy dependence on Russia, much of the investment has been directed into the oil and gas industry. Chevron, Exxon-Mobil and BP are among the biggest investors.
Money is also pouring into such areas as real estate: Baku is home to new shopping centers, hotels and apartments, all growing up around the Unesco-protected Old City that remains at Baku's heart. Hotel chains Four Seasons, Hilton and Marriott all have major projects under way.
Although the country has reduced external debt from 40% of GDP in 2004 to 20% in 2009, some observers remain concerned about Azerbaijan's failure to diversify away from energy, which accounts for 55% of GDP and 95% of export earnings. Last year non-oil GDP growth dropped from 15.7% to 3.2%.
"Money right now is clearly not a problem for Azerbaijan, but do they have a strategy?" asks Jean-Louis Lavroff, the EU's head of operations in Baku. Perhaps not, but for now, Azerbaijan seems content to make hay while the sun shines, reveling in its newfound role as the Caucasus' leading investment destination.