MILESTONES: VIETNAM
By Thomas Clouse
Vietnam's stock markets tumbled in August following the arrests of two of the country's top bankers, Nguyen Duc Kien and Ly Xuan Hai.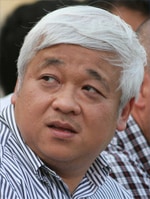 Asia Commercial Bank's Kien arrested for "illegal business activity"
Photo Credits: REUTERS/STRINGER VIETNAM
The arrests shook investor confidence in Vietnam, who pulled out more than $5 billion from the Ho Chi Min and Hanoi stock markets during the week of the arrests. Vietnam's central bank pumped in $1.1 billion in liquidity to stabilize markets, state-run media report.
According to a statement on the central bank's website, Kien, one of Vietnam's wealthiest citizens and founder of large private lender Asia Commercial Bank, was arrested on August 20 for illegal business activity. Although Kien's crimes were unrelated to his work at ACB, news of his arrest caused panic among ACB's investors and depositors, resulting in a massive drop in its stock price and large withdrawals from its deposit base. The resignation and arrest of ACB's CEO, Ly Xuan Hai, followed three days later, adding to the uncertainty over the bank's future.
The arrests marked a new level of aggressiveness in the government's anticorruption campaign and may also reflect internal political tensions. Kien reportedly has links to prime minister Nguyen Tan Dung. Dung's political opponents, including president Truong Tan Sang, have highlighted corruption and the opacity of the country's financial networks as key concerns.
The Center for Strategic and International Studies explains in its blog: "Kien appears to be a harbinger of coming changes to Vietnam's state-driven capitalist model. He belongs to a generation of businessmen who amassed their wealth through political connections when the Communist Party began opening up the country in the late 1980s. His arrest is a signal that the government's crackdown on cronyism and corruption, which have destabilized and burdened the economy with bad debts, is picking up steam."