Following the Congress (I) party's best federal election showing since 1991, India's stock markets began to price in an acceleration in the pace of economic reforms.
By Aaron Chaze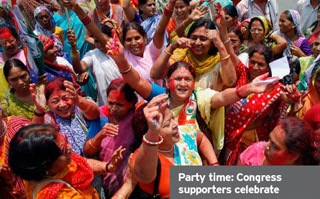 The equity indexes reported the best one-day showing in Indian stock market history, with the BSE Sensex racing up 17% at close of trading over the previous day's trading. The market was responding to the fact that the Congress (I)-led coalition of regional parties will exclude the Indian communist parties that reported their worst electoral showing ever. The communist parties were an important part of the earlier coalition and blocked all attempts at economic reform. Further reforms are now expected in banking and insurance. The government is expected to boost infrastructure investments and provide a renewed push to the oil and gas sector as well as to increase the pace of privatization. The Indian rupee jumped by 3.2% against the dollar, its biggest one-day gain in 11 years.
In the wake of the election, public sector businesses are expected to consider tapping capital markets and to revive plans for stock market listings. Indian finance ministry officials have said that three companies—National Hydro Power Corporation, Oil India (a small government oil company) and RITES (responsible for rail infrastructure)—already have the necessary approvals in place for an IPO. A sale of 5% to 10% of the government's stake in the three companies is expected and will likely fetch close to $1 billion. In the past five years, due to opposition from the communist party allies, the government barely raised $2 billion. From 1999 to 2004, the BJP-led coalition raised $7 billion from privatization.
The Center for Monitoring the Indian Economy (CMIE), a highly respected Mumbai-based economic think-tank, said in a report that the Indian economy could be expected to grow by 6.6% over the year to March 2010. India's GDP expanded by 7.1% year on year for 2008-2009, and for the previous three years (2005-2006, 2006-2007, 2007-2008) GDP growth exceeded 9% a year. The Reserve Bank of India previously announced that it expected GDP growth of 6% for 2009-2010. CMIE has cited the better-than-expected January-to-March 2009 quarter results and evidence of increase in capital spending from corporate India as key reasons for its GDP growth forecast.