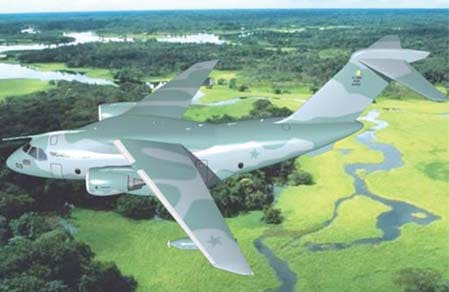 Brazil's air force is helping finance Embraer's $500 million development program for a new military transport plane
Following Brazil's recent credit boom, banks are starting to face increased customer arrears. A research report from BB Investimentos, a division of Banco do Brasil, shows the default rate (arrears of 90 days or more) on all loans rose to 4.6% in January from 4.4% in December. Banks are increasing provisions against non-performing loans and taking more conservative lending strategies. Brazil's total available credit from public and private lenders rose from 34.2% of GDP in January 2008 to 41.2% in January 2009, and banks had initially predicted further credit growth in 2009.
In a further sign of the impact on Brazil of the credit crunch, Brazilian finance minister Guido Mantega has admitted the country is unlikely to meet the official 4% GDP growth target for 2009. While the government will continue to introduce economic stimulus measures, analysts predict the economy will grow by just 1% this year, compared with 5.1% in 2008. Tighter credit is cited among reasons for the slowdown.
The country's oil industry is shrugging off the downturn, though. Japan's Marubeni industrial group will finance construction of an $8.5 billion refinery by Petrobras, Brazil's state-owned oil company. The loan will be partly repaid with future output from the refinery, which will convert crude oil into low-sulfur diesel. It will process up to 300,000 barrels per day when a first phase is completed in 2013, with a second phase doubling capacity by 2015. The loan comes on the heels of an agreement by the China Development Bank to provide $10 billion for Petrobras to finance its $174.4 billion five-year investment program.
The Brazilian Air Force will help finance a $500 million program for Embraer, the world's third-largest aircraft producer, to develop a new military transport plane. The Brazilian company estimates demand for the KC-390 will allow it to sell 700 units of the new model worldwide by 2020. The air force plans to purchase up to 30 of the new planes.
—Antonio Guerrero