Bank of China (BOC) is the sole strategic partner of the Sixth China International Import Expo (CIIE), the world's largest import exposition, held November 5-10, in Shanghai.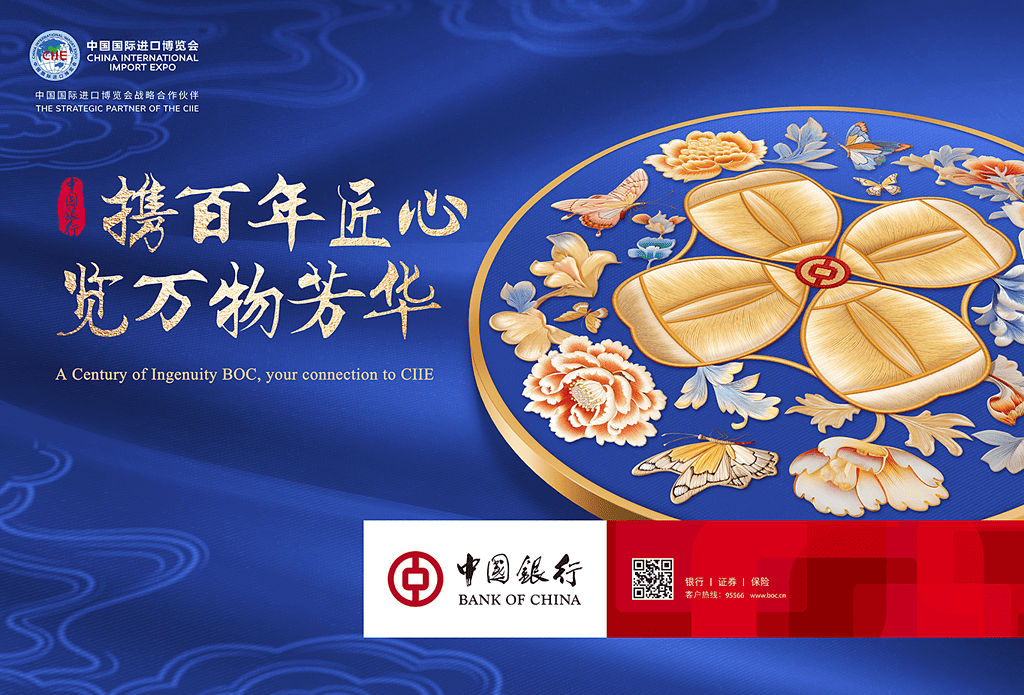 Bank of China (BOC) is the sole strategic partner of the Sixth China International Import Expo (CIIE), the world's largest import exposition, held November 5-10, in Shanghai https://www.ciie.org/zbh/en/
Launched in 2018 to support to trade liberalization, CIIE promotes global economic growth and, over the years, has become a major platform for China's new development platform. The sole strategic partner to CIIE for its previous five expos, BOC provided significant support to the CIIE in preparations and planning for the sixth edition of this major international import industry event.
Robust participation across the global import industry
The Sixth CIIE is expected to attract guests from 154 countries, regions and international organizations. Over 394,000 professional visitors have registered to attend, representing a full recovery to pre-pandemic attendance levels. In addition, 289 Global Fortune 500 companies and industry-leading enterprises are poised to attend the expo, exceeding previous participation numbers.
With 367,000 square meters of exhibition space, the upcoming CIIE will feature over 3,400 exhibitors, and 69 countries and three international organizations are confirmed to participate in country exhibitions.
Leveraging its prior experience as CIIE's sole partner for five consecutive years, BOC facilitated hosting of the sixth expo, providing event support in key areas, including attracting domestic and overseas investment and offering exhibition services and on-site financial services.
The Sixth CIIE is the first fully offline event of its kind since the pandemic. BOC is contributing its own personnel and material resources essential to the successful preparation, management and operation of the event.
Extensive pre-expo preparations
To prepare for the Sixth CIIE, BOC conducted a wide range of activities to attract presenters, participants, exhibitors, attendees and sponsors: The bank supported 27 overseas promotions in 37 countries and regions; more than 20 domestic investment promotion roadshows; and two large-scale investment promotions for "CIIE Entering Jilin" and "CIIE Entering Yunnan." Additionally, BOC issued a "Comprehensive Financial Services Plan for the Sixth China International Import Expo" to mark the 100-day countdown leading up to the event.
During the exhibition, BOC will host a session on "Financial Reform and Innovation to Promote Upgrading of Pilot Free Trade Zones" under the Hongqiao International Economic Forum and co-lead the trade and investment matchmaking meeting with the China International Import Expo Bureau. BOC will also host the "Shipping and Trade Digitization Development Forum" and the forum on new energy, among other activities. The bank is also poised to participate in key events, including the World Openness Report 2023 release ceremony, Hongqiao HUB Conference, Silver Economic Forum, Exhibitor Alliance conference and High-End Forum on Development and Cooperation of Seed Industry.
These proceedings will explore the needs of CIIE customers, provide channels for enterprises to negotiate and secure deals, and strive to promote more effective collaborative outcomes.
Financial services innovation boosts expo experience
BOC will set up a comprehensive service desk in the National Exhibition area to provide financial services, such as consultation and guidance to domestic and foreign participants. To further support the "Invest in China Year" activities launched by the Ministry of Commerce, BOC will leverage its cross-border strengths and global presence to establish special "Invest China" and "Invest Shanghai" zones for the first time during the trade matchmaking meeting.
In addition, BOC will arrange for 100 CEOs to visit different CIIE venues together with the China International Import Expo Bureau, providing on-site translation and interpreting services, cooperation docking and other support.
In response to the national development plan and supportive policies regarding AI, BOC will work with the China International Import Expo Bureau to set up the AI experience zone at the Sixth CIIE. Titled "Toward a Smart Future," the AI experience zone will be designed with a "Smart City + Intelligent Sports" concept and present global cutting-edge AI technologies with futuristic urban style.
During the expo, BOC will also launch pilot applications of digital RMB to provide convenient and effective payment services for merchants and consumers.
Celebrating six consecutive years supporting CIIE
Throughout its partnership with CIIE, BOC has given full play to its global presence and upgraded its financial service programs, providing high-quality comprehensive financial services to tens of thousands of enterprises from more than 100 countries and regions.
Since CIIE's first trade and investment matchmaking meeting, BOC has provided matchmaking services for more than 4,200 exhibitors and 8,600 purchasers from over 100 countries and regions, reaching nearly 5,000 intended deals.
To date, BOC has held 117 matchmaking activities around the world, offering financial value-added services to enterprises in 126 countries and regions across five continents, earning wide praise from political and business communities worldwide.
As a highly globalized and integrated Chinese bank, BOC continues to serve as a financial bridge between domestic and foreign traders and is committed to the success of the Sixth CIIE event.
Sponsored by: