MILESTONES: MONGOLIA
By Arthur Clennam
While the rest of Asia is slowing down, Mongolia is too, but by an entirely different playbook. Stoked by lucrative mining discoveries, Mongolia pushed out a blistering 17.5% growth rate in 2011-one of the world's highest.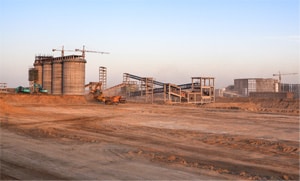 Mongolia's commodity boom challenges its ability to rein in spending
This year that figure will dip to a mere 11.8%, according to recently revised World Bank figures, as key commodity prices deflate and the government institutes tighter monetary policy. Future stability for the growth powerhouse will depend on fiscal stewardship under laws coming into effect in 2013.
However, it turns out that a reversal from astronomical growth is not a bad thing, according to Moody's, which in a recent report endorsed the commodity-rich nation's long-term prospects. But there are worries in the short term that boom-bust patterns of a nation tethered to commodity resources for future growth could undermine Mongolia's ability to hold true to a strong plan: Develop the infrastructure needed to support its future and ensure that government financial policy stays sensible and firm.
An example of the challenge Mongolia faces is that one of the country's most promising mining bonanzas will stem from huge copper deposits found in Oyu Tolgoi, as well as coking coal finds discovered in Tavan Tolgoi. At the outset, extraction will depend on power supplied by China until a power station can be installed nearby.
Ensuring that foreign investors are ready to gear up for such attractive but long-term risks will be a matter of government fiscal prudence. Mongolia emerged from its most recent boom-bust cycle with the help of IMF aid. Can it go the next round alone?
The test will come in 2013, when a fiscal responsibility law aimed at prudent use of revenues comes into effect. A recently passed budget law is expected to shape next year's budget. Both are needed. IMF largess helped pave over budget deficits to 2010, but spending overtook revenues in 2011, yielding a deficit, which stood at 5.3% of GDP.