NEWSMAKERS: PERU
By Antonio Guerrero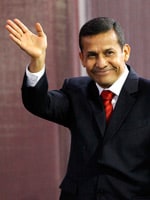 Humala: Investors' friend?
The election of leftist leader Ollanta Humala as president of Peru after a June run-off has unleashed concerns among the business leaders who feel the former coup-plotter may impose radical policies when he takes office on July 28. Supporters say Humala, who had lost a presidential bid in 2006, is now prepared to shift to the center. Mining companies, which have contributed to Peru's recent economic boom on account of high copper prices, are not convinced.
Their concerns may be justified, as Humala says he will tackle poverty by imposing a tax on mining companies' windfall profits. Some analysts speculate he may also increase mining royalties paid to the government. Southern Copper, one of the world's largest copper producers and a major player in Peru's mining sector, is taking a cautious approach, reviewing $2 billion in planned investments until Humala unveils his cabinet. The Lima Stock Exchange has also suffered, as investors move to the sidelines until the new administration defines its economic policies.
Humala has been giving out mixed signals. While seeming to be preparing for battle with mining interests, he also vows to balance the nation's budget, curb inflation and improve relations with neighboring countries. Just days after his electoral win, Humala flew to Brazil to meet with former president Luiz Inácio Lula da Silva, who helped structure Humala's successful political campaign. Lula prompted similar jitters when he was first elected president of Brazil, but adopted market-friendly policies that have made his country an emerging market economic star. Business leaders hope Humala will follow the Lula model, instead of the more radical leftist policies of Venezuelan president Hugo Chavez, who called Humala's victory the "beginning of a new dawn."
Peru's central bank is pricing in the concerns, suggesting private investment, which soared by 37% last year, will rise by a more modest 10% this year. In March it said investment would increase by 15%. It also lowered its 2011 GDP forecast in June to a still-healthy 6.5%, from a previous 7%, partly due to a possible slowdown in mining investments. Central bank president Julio Velarde says mining projects will account for nearly 50% of the $47.5 billion in expected investment flows for 2011–2013.