URUGUAY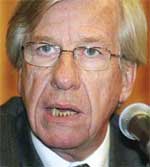 Danilo Astori: Businesses' "darling" in presidential race.
Unable to seek reelection, Uruguayan president Tabaré Vázquez has tipped his finance and economy minister to be the ruling Frente Amplio (FA) coalition's candidate in the October 2009 presidential race. Danilo Astori will step down from the key cabinet post in July to launch his campaign.
Astori's candidacy must still be officially decided at a June 2009 primary election. José Mujica of the Movimiento de Participación Popular (MPP), the largest party within the FA coalition, is likely to be his biggest challenger. However, there is talk of an Astori-Mujica ticket that would give the FA a "dream team."
Astori's track record has been positive, as Uruguay's economy grows steadily even as the global economy weakens. Growth is being driven by high commodity prices, as Uruguay is an important producer of grains, dairy products and beef. GDP expanded by 10.9% year-on-year in first-quarter 2008, prompting analysts to revise their full-year growth forecast to 6.6% from a previous 5.25%.
Inflation, nevertheless, remains a concern, and opponents are likely to point to the government's inability to meet its 3%-7% inflation target as a weak spot for Astori. Inflation is fueled by high commodity prices and fiscal expansion, with consumer and producer prices posting year-on-year rises of 7.1% and 17.1% respectively in April.
The economic team has raised reserve requirements to curb credit demand, so as not to raise interest rates. Astori has also rejected calls for imposing price controls, instead cutting import tariffs on certain basic foods and pursuing voluntary price agreements with grain producers.
While Vázquez ran on a center-left platform that put him on the same team as Latin America's other leftist leaders, he has thus far pursued responsible fiscal and economic policies. With Astori leading the way for the administration's business-friendly approach, he will undoubtedly be the business community's darling in next year's race.
Antonio Guerrero