Investors should watch Malaysia for substantive progress toward reform.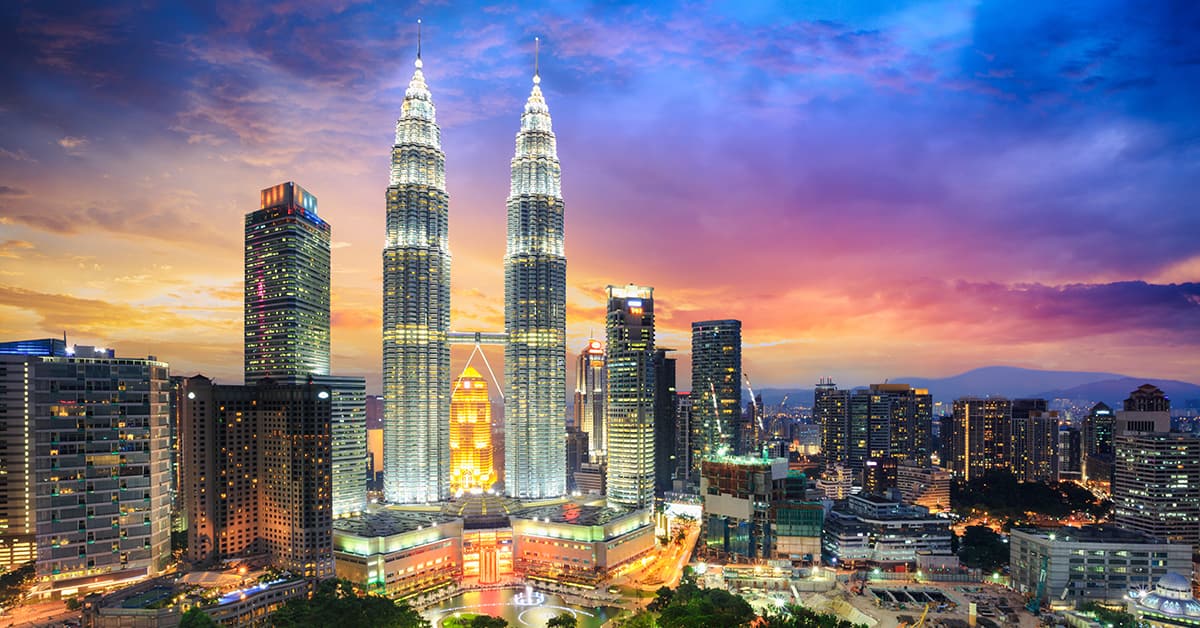 VITAL STATISTICS
Location: Southeast Asia
Neighbors: Singapore, Thailand, Brunei and Indonesia
Capital city: Kuala Lumpur
Population (2023): 34,153,800
Total labor force (2022): 16.3 million
Literacy rate (2022): 95%
Official language: Malay
GDP per capita (2022): $12,295 (expected)
GDP growth (2022): 6% (est.)
Inflation (2022): 4.1% (est.)
Unemployment rate: 4%
Currency: ringgit
Corruption Perceptions Index rank (2021): 62/180
Investment promotion agency: InvestKL, under the Ministry of International Trade and Industry; also the Malaysian Investment Development Authority for manufacturing and servicing sectors
Available investment incentives: Income tax reductions and tax holidays for certain sectors and regions; special economic development zones; tax incentives and discounts for individuals and entities invested in carbon capture; tax incentives for foreign companies issuing Islamic bonds and financial instruments; government SME incentives
Political risks: Interethnic conflict and resentment; conflict over Islamic versus secular law
Security risks: Marine piracy, particularly in the Malacca Strait and between Sabah and the Philippines; instances of terrorism; human trafficking and sex trafficking; high risk of kidnapping and violent crime, particularly near the east coast of Sabah, with land- and water-based curfews; petty crime widespread; fraud and scams of all kinds common; homosexuality illegal and harshly punished, including violent vigilantism
Pros
New political direction and reform
Determination to reduce corruption
Young labor force
Vibrant energy sector with aggressive green policy
Strong relations with China
Adjacent alternative to Singapore
CONS
Uncertainty over the longevity of the coalition government
Special interests resistant to reform
Complex web of regulations and policies
Undeveloped infrastructure
History of fractious relations with global economic powers, especially the US
Sources: CIA World Factbook, Government of Canada Global Travel Advisory, International Monetary Fund, Malaysia Government Department of Statistics, Malaysian National News Agency, Reuters, Trading Economics, Transparency International, US State Department, World Bank, World Population Review.
For more information, check out Global Finance's Malaysia Economic Report data page.
The change in Malaysian leadership following the 2022 election may signal a historic shift in the country's economic fortunes. The postcolonial coalition political structure, which endured for 61 years from independence until 2018, has given way to less paternalistic and more-inclusive politics.
As caution over China grows, Malaysia—with its common law heritage, educated English-speaking workforce and significantly lower costs than its smaller neighbor Singapore—offers investors an alternative.
The progress made in early 2023 by Prime Minister Anwar bin Ibrahim's incoming administration in critical areas of economic and political reform will send a clear signal to investors looking away from China.
"For the past 12 months, we have seen significant inward investment activity in three main sectors: renewable energy, manufacturing and technology," says Cassandra Thomazios, a Kuala Lumpur-based partner who heads the corporate and investment team at MahWengKwai & Associates. She adds that the new government has set attraction of foreign direct investment (FDI) as one of its main goals, providing abundant tax and other initiatives.
Investments from companies in Canada, China and Japan have been increasing. The FDI from China alone amounted to more than $180 billion in 2022. Renewables are big, as the country's "Go Green" initiative has seen increased investment in solar power generation.
"Malaysian property companies are providing land and infrastructure and outsourcing solar investment to Chinese companies," says Thomazios. "We are also seeing Malaysian coal plants retrofitting to other natural feedstock using imported technology."
Export tariffs imposed on Chinese semiconductors also have created an opportunity to use Malaysia as an alternative route into the global market. "They create a regional HQ here, benefit from major tax exemptions, and then sell Chinese semiconductors worldwide," Thomazios notes.
These sentiments are echoed by Thean L. Soo, a banker who had left Malaysia for Australia and worked for National Australia Bank, Westpac and ANZ before returning to Southeast Asia and becoming the managing director and head of relationship management South Asia Pacific at German lender HypoVereinsbank, a subsidiary of UniCredit.
Soo was closely involved in bringing business into Malaysia from China after the introduction of the China-Asean Free Trade Agreement in 2010, especially in high tech and green technology. He now takes a close interest in Malaysian FDI from nearby Singapore.
"After four prime ministers over five turbulent years, the investment climate in Malaysia is improving; and the new government should help," says Soo. "There was a hiatus under [Prime Minister Mahathir bin Mohamad] and his successors … but now it will pick up again."
He notes that platforms for inbound investments are in place, with highly structured processes: "Anybody who wants to invest will get support and guidance from the Ministry of International Trade and Industry under the finance ministry."
Anwar's Coalition
Prime Minister Anwar's new unity government won power in November 2022 and, on December 16, signed a cross-party coalition agreement that gives it a two-thirds majority based on a manifesto of reform. As a result, investors will watch developments over the next year with interest.
Anwar is a former Deputy Prime Minister and Finance Minister who has signaled his intention to rewarm Malaysia's relationships with global institutions such as the International Monetary Fund. Prime Minister Mahathir had ruled out borrowing from the IMF during the 1997 Asian financial crisis, citing its "onerous" conditions—and indeed, Malaysia recovered better than some neighbors who did accept IMF loans.
Other signs expected to be positive for business interests include a firm move to reduce social subsidies and a renewed commitment to a lagging infrastructure—especially the relaunch of the high-speed rail link between Kuala Lumpur and Singapore.
"This project is a must, and will signal that we are investing in infrastructure and enabling rapid movement between development zones in Malaysia and our prosperous neighbor Singapore," says Mohd Nur Ismal bin Mohamed Kamal, CEO of MyHSR, the state-owned project-delivery vehicle. He is optimistic that the project, on hold since 2019, will be relaunched by Anwar's government.
Diminished Expectations
Maybank Investment Bank estimates only moderate growth for the Malaysian economy in 2023, given challenging global conditions and slowing domestic demand. The bank cut its expectation of Malaysia's full-year 2023 growth to a moderate 4%, down from its 2022 forecast of 8%.
Yet leaders at the central bank, Bank Negara Malaysia (BNM), are confident that the Southeast Asian nation will not enter a recession this year. "For 2023, we see some challenges to growth, especially from the external front with global growth slowing," BNM's governor, Nor Shamsiah Mohd Yunus, told the Malaysian National News Agency in November. "But I would like to stress again that we are not expecting a recession."
Maybank estimates Malaysia will continue to do well with commodity exports, particularly palm oil, petroleum and liquefied natural gas. The average price of crude palm oil is expected to stay at 3,500 ringgit (about $825) per tonne (1.1 US tons). Brent crude oil is expected to stay around $96 per barrel for the following year.
China remains Malaysia's largest foreign investor in the manufacturing sector, in addition to being Malaysia's largest trading partner and also a significant source of tourism. Bilateral trade with China reached $176.8 billion, accounting for 18.9% of Malaysia's total. Malaysian exports to China rose 21% to a new high in 2021, according to the Department of Statistics Malaysia, based largely on liquified natural gas and electrical and electronic products.
Malaysia has a substantial energy sector led by state-owned Petroliam Nasional (Petronas), which manages, explores, produces, refines and markets energy resources. In late 2022, Malaysia published its National Energy Policy 2022-2040 (NEP), setting government priorities for the energy sector and announcing a shift away from hydrocarbons.
The NEP targets a 2040 energy mix of 4% bioenergy, 4% solar, 9% hydropower, 27% petroleum products, 39% natural gas and 17% coal compared to 2018 numbers of 1% bioenergy, 0% solar, 6% hydropower, 30% petroleum products, 41% natural gas and 22% coal. This modest vision has created major opportunities for inward investment in green technology.
"Malaysia has land and sunshine in abundance," says Robert Liu. He advises on and invests in green projects in Malaysia and the region through his investment vehicle, OceanPixel, one of many local players competing with Chinese, Canadian and other inbound FDI. "We have been working with state governments to take large areas—[that are] unattractive for other investors due to the toxic legacy of tin mining and other extraction industries—and create large solar farms using imported technology."
With the winds of change blow fresh opportunities. With neighboring rival Singapore notching new cost-of-living highs, Malaysians see a chance to build a new regional center. "Right now, there is a deliberate policy to encourage foreign investors to set up regional hubs here," says Thomazios, also pointing to the strong legal frameworik, tax incentives and a strategic location at the heart of Asean. "We see early signs of increased FDI, and expect things will get better as we see greater political stability over 2023."