MILESTONES: CHINA/INDIA
By Erik Heinrich
China and India are in the midst of a skyscraper building boom that is radically transforming the skylines of its biggest cities and raising hubris to new heights.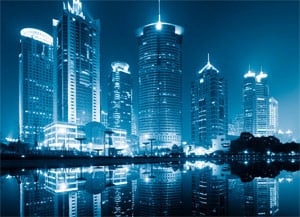 At present China is home to an impressive 53% of the 124 skyscrapers now under construction worldwide—defined as buildings over 240 meters in height. India has just two office towers exceeding this height, but 14 under construction as part of its first-ever such boom, including the world's second-tallest building, the India Tower, in the financial capital Mumbai.
On the surface this might seem like good news for the two Asian giants. However a recent study from Barclays Capital suggests that the building bubbles in China and India are in fact a troubling sign that the good times will soon be over.
Barclays cites an unhealthy correlation between construction of the world's tallest buildings and impending financial crises over the past 140 years. "If history proves to be right, this building boom in China and India could simply be a reflection of a misallocation of capital, which may result in an economic correction," says Andrew Lawrence, director of property research at Barclays Capital in Hong Kong.
As a case in point, notes the study, the Great Depression hit as three record-breaking buildings were going up in New York—40 Wall Street, the Chrysler Building and the Empire State Building. Completion of the Petronas Towers in Kuala Lumpur, Malaysia, in 1997 was swiftly followed by the Asian Crisis. Dubai's Burj Khalifa, now the world's tallest building and completed in 2010 at a cost of $4.1 billion, was similarly a harbinger of bad times. As it neared completion, Dubai almost went bankrupt and a recession took hold in Western economies.
Barclays points out that about 80% of China's new skyscrapers will be going up in tier-two and -three cities. That, according to Barclays, is an indication the country's building bubble is growing.