Mergers & Acquisitions
BY GORDON PLATT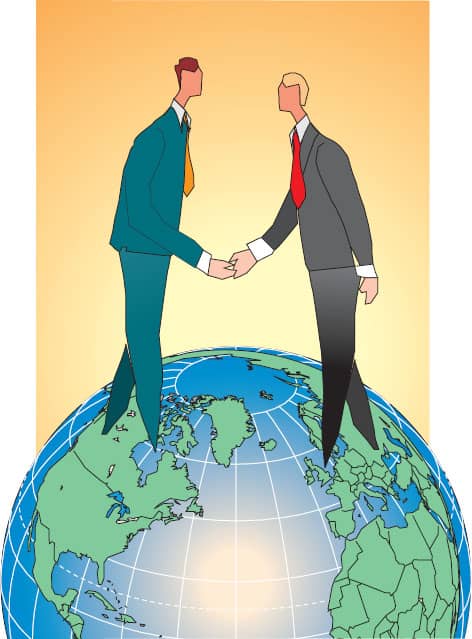 Two of Brazil's biggest food companies, Perdigão and Sadia, plan to merge in a stock-swap transaction that will create a multinational food company with annual sales of $10.6 billion. The new company, Brasil Foods, will challenge major United States-based food companies in global markets. It will have a market capitalization of about $5 billion, equal to that of Arkansas-based Tyson Foods, one of the world's largest processors of chicken, pork and beef, and bigger than that of Hormel Foods, another large US meat producer.
Meanwhile, halfway around the world, India's leading mobile-phone operator, Bharti Airtel, has revived talks on its proposed merger with South Africa-based MTN that would create a $20 billion telecom services provider with 200 million customers in India, Africa and the Middle East. The combined company would be the third largest in the world, in terms of customers, after China Mobile and Vodafone. Bharti Airtel is 31%-owned by Singapore Telecommunications, which would remain a significant shareholder in the new company.
"We are delighted at the prospect of developing a partnership with MTN to create an emerging market telecom powerhouse," Bharti chairman and CEO Sunil Mittal said in a statement. "Both companies would stand to gain significant benefits from sharing each other's best practices in addition to savings emanating from enhanced scale."
Under the proposed scheme of arrangement, Bharti would acquire a 49% stake in MTN, while the South Africa-based company and its shareholders would acquire a 36% interest in Bharti. The broader strategic objective is to achieve a full merger. Bharti plans to pay for its stake in MTN with cash and newly issued shares in the form of global depositary receipts.
"We see real power in a combination, and we will work hard to unleash it for all shareholders," Mittal says. "This opportunity also represents a first of its kind in developing an Indian-African initiative that would serve as a shining example of South-South cooperation."
Beginning of a Trend
Companies from rapidly developing countries that are now moving into international markets have become a powerful force in global business, according to the Boston Consulting Group. Established companies and industry leaders will soon be forced to confront these new global challengers, if they are not already, it says.
"The emergence of global challengers is far from over; we are still at the beginning, not the end, of a trend," BCG said in a report released earlier this year. "Although volatile financial markets and other risks present obstacles to the challengers, they are learning quickly to manage these hurdles-and building stronger businesses in the process," it said.
In Brazil, the merger of Perdigão and Sadia would create the world's biggest poultry company. Not only is Brazil the world's largest exporter of chicken, but it also accounts for one-third of the world's beef exports. In May, China lifted sanitary restrictions on the import of Brazilian chicken. As a result, Perdigão was able to immediately ship 120 containers of chicken feet and wings to China from three of its plants.
Debt-laden Sadia posted the first loss in its 65-year history in 2008 after losing nearly $400 million in a wrong-way bet on Brazil's currency, which slumped by 31% in the second half of 2008. Perdigão passed Sadia last year to become Brazil's second-largest food company after São Paulo-based JBS, which acquired Swift of the United States for $225 million in 2007 to become the world's largest beef and pork processor.
Normal 0 7.8 pt 0 2 false false false MicrosoftInternetExplorer4
Development Financing
Brasil Foods plans to sell $1.94 billion of new shares. Brazil's national development bank, BNDES, may purchase some of the shares. BNDES has been financing big mergers in Brazil to facilitate consolidation in such industries as ethanol, pulp and paper, and telecommunications.
The shares of Brasil Foods will be listed on the Novo Mercado section of BM&FBovespa;, the São Paulo-based stock exchange. The company's American depositary receipts will be traded on the New York Stock Exchange. Sadia's ADRs will be converted into ADRs of Brasil Foods.
The proposed merger will be submitted to Brazilian antitrust officials for approval. The combined company, to be based in Itajaí, would have a majority of the local market in processed meats and margarine. It would have a dominant share in certain frozen foods, such as ready-made pizza and lasagna.
The merger will create cost savings in production and distribution. The companies have factories in the United Kingdom, the Netherlands, Russia and Romania. They export thousands of food products to 110 countries.
"We aim to be a major multinational food company," says Nildemar Secches, chairman of Perdigão. The combined company would have 116,000 employees. The Arab markets are the main markets for both companies, which are also seeking broader access to the US market.
Meanwhile, China, India and Brazil are the most attractive destinations for private equity firms poised to capitalize on lower valuations, according to a survey by the Emerging Markets Private Equity Association and Coller Capital. Russia, Central and Eastern Europe and Africa are seen as having increased risk, the study found.
Plenty of Dry Powder
Although the private equity buyout market was adversely affected by the credit crisis, 2007 and 2008 were the two largest years ever in terms of money committed to buyout funds. "With $400 billion available for investment, there is currently enough dry powder to more than support the deal activity of 2004, 2005 and 2006 combined, with the use of moderate leverage," says John Gabbert, founder of PitchBook, a private-equity-focused research firm. "As economic conditions continue to stabilize and the credit markets start to reopen, the private equity industry is poised to get back to deal making," he says.
The capital overhang climbed by $141 billion in 2008, as funds closed on record amounts of new capital, and investment activity declined by nearly 60% due to the global economic slowdown, according to a study by the Alliance of Merger & Acquisition Advisors (AM&AA;) and PitchBook. "This historic high of capital waiting to be deployed by private equity creates a new deal paradigm and a challenge," says David Cohn, AM&AA; board member and managing director of Mosaic Capital. "Dealmakers have to put down their pencils and dispense with historical spreadsheet analysis," he says.
Investors need to scrutinize each opportunity to identify companies that will survive the recession and that have the right people in place to realize future growth, Cohn says