MERGERS & ACQUISITIONS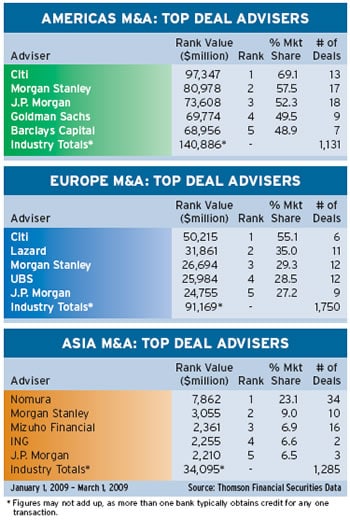 The need for bigger drug-development pipelines and more diversified businesses with greater geographic reach is fueling a wave of mergers in the pharmaceutical industry that is providing investment bankers with some much-needed underwriting fees. It is also giving bankers an opportunity to show that they are still lending to creditworthy borrowers, despite the credit crunch.
Merck and Schering-Plough agreed to merge last month in a $41 billion deal that would create the worlds second-largest pharmaceutical company. The combined company will benefit from a formidable research and development pipeline, a significantly broader portfolio of medicines and an expanded presence in key international markets, particularly in high-growth emerging markets, says Richard Clark, chairman, president and CEO of Merck, who will head the merged entity, which will keep the Merck name.
J.P. Morgan, Mercks financial adviser, has committed to provide $8.5 billion of financing for the transaction through a loan that it will syndicate at a later date. Goldman Sachs and Morgan Stanley are advising Schering-Plough.
In late January New York-based Pfizer, the worlds biggest drug maker, agreed to pay $65 billion for rival Wyeth in a move also designed to strengthen its new-product pipeline. Pfizer plans to borrow $22.5 billion from a group of banks, including Goldman Sachs, J.P. Morgan, Citi and Bank of America.
Meanwhile, as Global Finance went to press, California-based biotechnology company Genentech was weighing an offer from Roche Holding, its majority owner, to acquire the remaining 44% of its shares that Roche did not already own. Roche, Switzerlands biggest drug maker, sold $16 billion of bonds in the US to help fund its bid, which valued Genentech at $47 billion.
The big pharmaceutical companies are facing growing competition from generic drugs as they lose patent protection on blockbuster drugs developed in the 1990s. Pfizers cholesterol-lowering drug Lipitor will be open to generic competition in 2011.
Schering-Plough told analysts at a meeting in November 2008 that it had $6 billion of medicines in the late stages of testing. Merck says its consolidation with its New Jersey-based neighbor will give it an engine for consistent, sustainable growth, driven in part by the addition of products with long periods of exclusivity.
Schering-Plough generates 70% of its revenue from outside the US, including more than $2 billion in annual revenue from emerging markets, including Brazil and China. The combined company will get more than half of its revenue from abroad.
The acquisition of Schering-Plough will also expand Mercks consumer product brands, giving it Coppertone sunblock and tanning lotions and Dr. Scholls foot-care products. Merck will also gain new animal-health businesses.
Separately, Midland, Michigan-based Dow Chemical agreed, following a legal battle, to go ahead with its acquisition of Rohm & Haas for $78 a share plus penalties established when the deal was reached in July 2008. Dow had tried to get out of the acquisition after the economy fell sharply late last year and the deal became less attractive. Dow also had second thoughts after Kuwait pulled out of a planned joint venture with it that would have provided $9 billion toward the purchase of Rohm & Haas.
Dow now says it will draw down as much as $10 billion from a short-term bank loan and use $3 billion of funding from Berkshire Hathaway and $1 billion from the Kuwait Investment Authority. Dow also will sell some Rohm & Haas assets, including the companys Chicago-based Morton Salt unit, which is expected to fetch about $1.5 billion.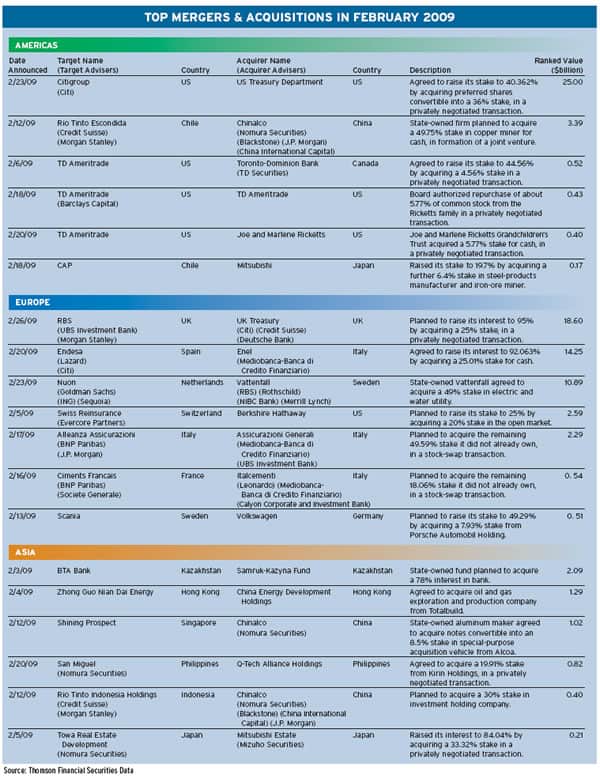 Gordon Platt