NEWSMAKERS: NIGERIA
By Antonio Guerrero
Nigeria's new economic chief, former World Bank managing director Ngozi Okonjo-Iweala, says she will focus much of her efforts on diversifying her nation's economy away from overdependence on oil and gas revenues.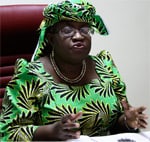 Okonjo-Iweala promises economic diversity
Africa's largest oil producer gets more than 90% of its export revenue from the sector. However, price volatility, coupled with economic sluggishness in the US, which imports one-fifth of its oil from Nigeria, has added pressures on government finances.
Okonjo-Iweala has a strong track record, having already been finance minister from 2003 to 2006. One of her biggest achievements was getting Paris Club creditors to write off $18 billion in Nigerian debt. She also fired corrupt officials and increased transparency. She left the post when she was briefly appointed foreign minister.
However, she now inherits an economy in which government spending has been bloated by wage increases and electoral spending. In May, parliament approved a budget amendment that allows the government to increase spending by another 17% this year. With President Jonathan Goodluck's People's Democratic Party reducing its parliamentary majority in April's elections, Okonjo-Iweala will face political hurdles in getting her proposals approved. The ruling party still has a 56% majority in the National Assembly, though the figure was 74% in 2007.
In her new role, Okonjo-Iweala has been tasked by Goodluck to coordinate economic policy, giving her an expanded mandate. She now has the titles of coordinating minister for the economy and minister of finance. The economic maven must find a way to increase energy, infrastructure and agriculture investments to diversify the economy and reduce unemployment, while keeping government finances under control. "The expectation, not just for Nigerians but for the whole world, is quite high," Goodluck said after swearing in her in.
Okonjo-Iweala noted: "People expect so much from you; some feel that you have the magic wand to change everything. The task is daunting."