INDIA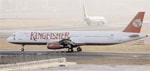 Kingfisher Airlines joins forces with Jet Airways in an effort to cut costs as losses force unprecedented cooperation.
Steep losses are forcing a flurry of consolidation in India's airline industry. With combined losses this year alone of more than $440 million, Jet Airways and Kingfisher Airlines have embarked on an unprecedented alliance that will see them share ground handling facilities, air crew and fuel management systems and trim their networks. The two airlines, which control 58% of the domestic aviation market, claim staff cuts and operational savings will help them slash around $300 million in operating costs. The two companies jointly have 19,000 employees and a combined fleet of 189 aircraft. Jet Airways has already announced a total of 1,900 job cuts, and Kingfisher is expected to cut jobs as well. The two companies' move follows a spate of consolidation in the Indian aviation industry. In recent months Air India and Indian Airlines—both state owned—merged, Kingfisher bought budget airline Deccan Air, and Jet Airways acquired Air Sahara.
While the aviation sector battles a crisis, the Indian IT outsourcing industry is expanding apace. Tata Consultancy Services (TCS), India's largest IT outsourcing company, announced that it was purchasing Citigroup Global Services (CGS), a subsidiary of Citi, for $505 million. In addition Citi has agreed to continue outsourcing to CGS and has committed an aggregate of $2.5 billion in revenues spread over the next decade. CGS currently has 12,000 employees in India and generates revenue of $278 million.
India and the United States signed a civilian nuclear trade deal in the second week of October, effectively ending 34 years of US sanctions against India. The deal now allows US companies to sell reactors, fuel and nuclear technology to India. The trade deal came a day after US president George Bush signed the nuclear accord with India into law following the passing of the nuclear trade legislation by the US Congress in early October. This deal will now enable India to purchase the fuel it needs for its 22 civilian nuclear power stations that are currently operating at 50% capacity. In addition India plans to build 18 to 20 new nuclear reactors at an estimated cost of $30 billion over the next 15 years.
Aaron Chaze