COUNTRY REPORT / BRAZIL
Brazil's commitment to developing biofuels is paying off handsomely. Investment is flooding in to other areas of the economy, too.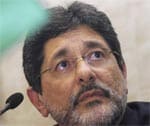 José Sergio Gabrielli, CEO of Petrobras
For the administration of Brazilian president Luiz Inácio Lula da Silva, biofuels may present both a business opportunity and a moral dilemma. On the one hand, the country's growing ethanol industry attracts investments and creates jobs. On the other, critics charge that diverting food sources away from the poor is immoral. While some thought that, for a president whose campaign platforms focused on tackling hunger and reducing poverty, ethanol would emit some noxious fumes, for Lula it instead gives off the sweet smell of success.
"Brazil stands at a crossroads. Decades of public and private sector investment in agro-energy have positioned the country as the world leader in the efficient production of biofuels," according to "A Blueprint for Green Energy in the Americas," a report prepared by Garten Rothkopf and published by the Inter-American Development Bank. "There is no agriculturally based fuel produced today that can compete with Brazilian sugarcane ethanol, which is competitive with gasoline prices as low as $35 a barrel."
The report goes on to note that Brazil already has gone farther than any other country in successfully incorporating biofuels into its transportation and fuel consumption. More than 70% of new cars sold in Brazil already use locally developed flex-fuel engine technology, which allows consumers to choose between any combination of ethanol and gasoline depending on their preference and budget. The government taxes such flex-fuel vehicles at a lower rate than conventional cars as an incentive. Furthermore, all gas sold in Brazil is blended with 23% ethanol.
Not everyone is on the biofuels bandwagon, though. Jean Ziegler, the United Nations special rapporteur on the right to food, has called for a five-year moratorium on biofuels, arguing that diverting food crops into fuel production is a "crime against humanity." Oxfam, a global charity, warns that the European Union's plans to require that 10% of transport fuels come from biofuels by 2020 could contribute to increased hunger among the world's poor. "In the scramble to supply the EU and the rest of the world with biofuels, poor people are getting trampled," says Robert Barley, Oxfam's policy adviser.
José Sergio Gabrielli, CEO of Petrobras, Brazil's state-controlled oil company, rejects Ziegler's moratorium and counters that unlike corn, which is used in the United States to produce ethanol, Brazilian ethanol is made from sugarcane, which he argues is not a basic food staple. Petrobras executives have suggested that one way to tackle the global food shortage problem is for the US to cut its tariffs on imported ethanol, thereby allowing more corn to be sold as food and helping to curb food-price inflation.
While Petrobras does not currently produce ethanol, the company plans to become a major producer and exporter and already produces biodiesel. Petrobras plans to build five of 20 ethanol plants slated through a partnership with Japan's Mitsui trading house. The Petrobras-built distilleries, which will be 30% owned by the Brazilian company, will have an annual output capacity of 4 billion liters of ethanol by 2012.
The Next Generation
Cenpes, Petrobras's R&D; unit, is also developing the next generation of biofuels, known as bioethanol, produced from agribusiness residues that do not deplete potential food sources. A pilot program is creating a hydrogenation process to produce biodiesel by mixing oil-derived diesel fuel with vegetable oils. Another Cenpes process uses vegetable oil and animal fat to produce fuel, while yet another uses oleaginous seeds as raw materials.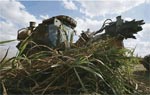 Brazil is a world leader in biofuel production, using sugar cane as the source
While some analysts say low profit margins for Brazilian ethanol may be keeping foreign investors cautious, investment continues to flow in. This year alone, US-based Abengoa Bioenergy acquired Dedini Agro, a leading Brazilian ethanol producer, while Bunge, a US-based agribusiness giant, acquired Agroindustrial Santa Juliana, another local producer.
Local producers are also investing heavily in the sector. Cosan, Brazil's largest sugar and ethanol producer, raised some $1 billion through an IPO in New York and São Paulo in August to fund a $1.7 billion four-year plan to expand its current mills and build new ones. Braskem, the country's largest petrochemicals producer, will invest $150 million in a plant to produce polyethylene from ethanol beginning in 2009.
The Garten Rothkopf report warns that the country's ethanol industry, launched in the 1970s amid a global oil crisis, remains in flux and will likely soon be revolutionized by new technology. The report contends that Brazil's challenge now is to find an appropriate balance between supporting a growing industrial sector and allowing it to efficiently and freely compete in the global market.
Although Brazil consumed 13 billion liters of ethanol last year—nearly 15% of the country's total fuel consumption—and Petrobras predicts ethanol sales will top gasoline sales by 2020, Brazil has no plans to abandon its growing oil sector. It aims to become a net oil exporter, for which it hopes to boost oil production from a current 1.8 million barrels a day to 2.7 million barrels a day by 2012, partly through new licensing rounds to develop additional oil fields.
Mining is also poised to take on a greater role. CVRD, the country's mining giant, announced plans to invest $11 billion next year. Officials say $8.4 billion will be invested in organic expansion projects and R&D;, $2.6 billion will be earmarked for existing operations, and $1 billion will be invested in expanding the company's nickel output. CVRD is rolling out a new program to service medium-size Chinese steelmakers and is reportedly considering building a fleet of ships to deliver mineral exports directly to Chinese ports.
Investment Floods In
Foreigners are eyeing the country's potential in a variety of sectors. A report issued by the United Nations Conference on Trade and Development shows multinational companies rank Brazil as the world's fifth most attractive country for investment over the next three years. FDI reached more than $26 billion during the first eight months of 2007 alone, after seeing flows of just $18.8 billion for full-year 2006. The São Paulo stock exchange (Bovespa) reports that 70% of funds raised through a recent IPO blitz came from abroad, driven partly by expectations of an upgrade to investment-grade rating by 2008-2009.
Meanwhile, however, Lula continues to face criticism for not fueling greater economic growth, despite a 2007-2010 Growth Acceleration Program launched by the federal government in January. His government is also disputing the IMF's Brazilian GDP growth forecasts for being overly bearish. The IMF predicts the nation's economy will expand by 4.4% in 2007 and 4% in 2008, with the latter revised downward from a previous 4.2% forecast. Finance minister Guido Mantega maintains that GDP will expand by 4.8% this year and 5% next year.
So far, recent indicators seem to favor Brasilia's more bullish outlook. The nation's economy grew by 4.9% during the first half of 2007, and industrial production rose by 6.6% year-on-year through August. Retail sales by volume rose by 9.9% year-on-year in August (after another 9.3% growth in July), with big-ticket items leading the charge. Automobile sales posted the strongest growth, rising by 25.9% in August and producing the eighth consecutive month of double-digit expansion. The consumer boom is supported by rising real disposable income, greater credit availability, falling interest rates and a strong currency that is making imported goods more affordable.
Yet the currency's nearly 24% appreciation against the dollar this year is also giving the Lula administration some sleepless nights, as rising imports are expected to lower Brazil's trade surplus to $41 billion in 2007 after a record $46.07 billion last year. While local industrialists beg for a weaker currency to regain competitiveness, the central bank's move to buy dollars on the spot market to boost reserves and curb the rally has had little effect so far.
The US Fed's recent interest rate cut further strengthened the real, as global investors sought higher-yielding Brazilian securities. The government itself plans to launch a sovereign fund with an estimated $10 billion to invest some of its excess reserves in higher-yielding securities beyond its traditional US treasury portfolio that no longer seems as appealing. Brazil's international reserves stood at $162 billion in October.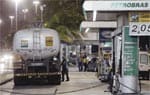 Petrobras predicts ethanol sales will top gasoline sales by 2020
The strong currency and positive fundamentals have prompted several foreign players to issue real-denominated bonds, the latest one coming in late October from the IFC, the World Bank's private sector arm, in the form of a deal equaling some $111 million. Known as the Amazonia bond, the issue was the IFC's first real-denominated paper. "We are delighted with the opportunity to contribute to Brazil's domestic bond market through the Amazonia bond," said IFC vice president Nina Shapiro in a statement. The bonds, which were reportedly two times oversubscribed, mature in 2011 and have a maturity rate of 11.96%.
With an approval rating above 60%, Lula, elected to a second four-year term in 2006, is already hearing supporters call for a constitutional reform that would allow him to seek a third term in 2010. Lula, at least for the moment, says he'd rather pass on the offer and favors a different reform. "If the National Congress wishes to carry out a political reform, everybody knows my proposal; I am in favor of a term longer than four years, but without reelection," says Lula, who may soon face a political dilemma.
If Lula decides to have a change of heart, he might just be president when Brazil hosts the soccer World Cup tournament in 2014. A diehard soccer fan in a country that has taken home the coveted cup five times, Lula just may be tempted enough to consider it. A cheering crowd, whether at a soccer stadium full of fans or at an ethanol plant full of workers, is always hard for Lula to pass up.

Antonio Guerrero