CHINA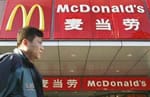 McDonald's: Facing growing pressure to allow its workers to gain union representation

China stepped up its fight against intellectual property rights (IPR) infringement in early April, lowering requirements for criminal prosecution and mandatory sentences. The move did not silence criticism from the US, however, which filed two new IPR-related cases against China at the World Trade Organization (WTO). The first case charges China with poor IPR protection, while the second alleges that government procedures inhibit foreign companies from selling products in China.
The Nasdaq stock exchange announced plans for a new index tracking the performance of Chinese companies listed in the US. The Nasdaq China index will launch in the second quarter of this year and will include 30 Chinese companies with a combined market capitalization of $600 billion. To be eligible for the index, companies must have a minimum worldwide market capitalization of $200 million, a minimum average daily US trading volume of 100,000 shares and a minimum price of $3 per share.
State-owned China Mobile Communications plans to set up a new subsidiary to manage the countrys third-generation (3G) mobile technology. Regulators have delayed implementation of Chinas 3G mobile network while Chinese companies improve the quality of the domestically developed TD-SCDMA standard. ZTE Corporation, Chinas biggest publicly listed telephone equipment maker, announced on April 9 that it had won contracts from China Mobile to supply part of the nations 3G network, indicating that the wait for 3G technology may soon be over. China is the worlds largest mobile phone market.
Fast food retailer McDonalds will allow Chinas state-run labor union to set up branch offices in the companys Guangdong Province outlets, the company announced in early April. The All-China Federation of Trade Unions (ACFTU) in Guangzhou, the capital city of Guangdong, had a week earlier accused McDonalds, as well as other multinational fast-food giants KFC and Pizza Hut, of breaching minimum-wage laws. The ACFTU historically was active in Chinas state-owned companies and worked closely with management. The role of the union in private companies is controversial, however, with some observers claiming that the union provides a mechanism for the government to maintain control over workers in the private sector. The ACFTU also set up branch offices at multinational retailer Wal-Marts China outlets last year.

Thomas Clouse