AFRICA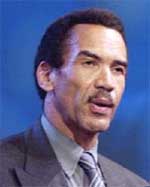 Botswana's new president, Seretse Ian Khama.
Economic growth in sub-Saharan Africa is set to continue strongly this year, according to the International Monetary Fund, which says the region is "better placed today to withstand a worsening of the global environment." Benedicte Christensen, acting director of the IMF's Africa Department, says prudent economic policies in the region have helped reduce inflation and increase foreign exchange reserves. She points out, however, that external factors such as rising fuel costs, investor nervousness and, particularly, rising global food prices present "increasing risks to the outlook."
Several African nations are experiencing growing social unrest prompted by the food shortages and sharp rises in prices of fuel and food across the continent. Violent protests have been reported in Côte d'Ivoire, Mauritania, Burkina Faso and Senegal, among other nations, and in Cameroon 40 people were reported dead after a riot over food shortages.
In Kenya, post-election violence subsided as negotiations between rival political parties ended in a power-sharing agreement between president Mwai Kibaki and his opponent Raila Odinga. As part of the deal, Odinga becomes Kenya's prime minister, and many of his allies will assume government posts.
Botswana also saw a change in political leadership as president Festus Mogae stepped down to allow his vice president, Seretse Ian Khama, to run as an incumbent candidate in presidential elections to be held next year. In stark contrast, Zimbabwe's ruling party refused to release the results of its recent presidential elections, leaving the economically crippled country in political limbo. Opposition leaders claim they won the election with a substantial majority, but Zimbabwe's president Robert Mugabe appears to be trying to cling to power. Mugabe's party activists were reportedly attacking opposition supporters in advance of a possible rerun of the election in an attempt to swing the vote Mugabe's way. For the first time, leaders of South Africa's ruling ANC party openly described the situation in Zimbabwe as a "crisis."
British fund management group Investec has launched a new Africa/Middle East fund focused on less mature economies in the region. The group, which describes Africa as "pure frontier territory," aims to capitalize on rapid developments that it believes are taking place in the political, economic, social and infrastructure arenas across the continent.
Dan Keeler