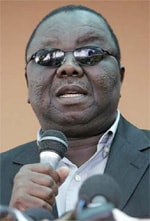 Tsvangirai: Vowed to restore
relations with the IMF.
The African Development Bank has used its own capital base to create a $1.5 billion trade finance facility that aims to fuel trade and investment in the region. African commercial lenders and central banks can tap the facility to boost liquidity, allowing companies to complete stalled investment plans and finance imports.
An IMF team was in Zimbabwe to evaluate the country's troubled economy, plagued by hyperinflation, food shortages and 90% unemployment. The team was invited by the new power-sharing government, which includes president Robert Mugabe and prime minister Morgan Tsvangirai, a former opposition leader. The government has vowed to restore relations with the IMF, which were cut in 1999 amid differences over fiscal policy. The IMF consultation will be critical to restoring that relationship.
Kenya's debut infrastructure bonds were oversubscribed by 45%. The government sold $233 million in 12-year 12.5% bonds. Appetite for the paper could encourage Nigeria to revive plans for its debut eurobond, postponed due to 2008 post-electoral violence and current market conditions. Fitch Ratings upped Kenya's outlook in January from negative to stable as the country regained political stability.
Rwanda's underdeveloped mortgage market is poised for growth. The market is dominated by only two players, the Commercial Bank of Rwanda and the Rwanda Housing Bank. The latter is gearing up to become a mortgage liquidity facility, providing financing for commercial banks to issue mortgages. Kenya's KCB, the newest player in Rwanda's financial sector, has also announced plans to issue mortgage loans.
Trustco, a Namibian microfinancing group, became the first company listed on the Johannesburg Stock Exchange's (JSE) new Africa Board, which allows cross-listing for companies traded on other African bourses. Trustco, which listed 707 million shares on the JSE, focuses on micro-insurance and microfinancing but also has stakes in real estate development, aircraft charters and publishing.
Antonio Guerrero