India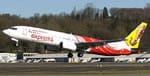 Up, up and away: Air India's fundraising spree finances expansion of its fleet
Air India, which is owned by the Indian government and is also the largest Indian air carrier, has begun the process to raise $1.5 billion from the global markets to partly fund its fleet expansion. This is the second round of financing for Air India as it marshals its resources to fund an order for 68 aircraft placed with Boeing, worth $9 billion. The first round of financing, which saw the airline raise $1.4 billion as partial finance for 17 aircraft, has now been expanded to another $1.5 billion for another 17 aircraft, all of which will be delivered by March 2009. This represents one of the largest overseas resource-raising exercises for Indian public sector enterprises. The US Exim Bank has cumulatively offered guarantees for $2.66 billion for two rounds of financing.
Air India's resource-raising spree in the international syndicated debt market is not an isolated development. In the first five months of 2007 several leading Indian companies picked up a cumulative $7.3 billion in long-term syndicated debt. This is a record level for Indian companies and exceeds the $6.1 billion raised last year in the same timeframe, according to consulting firm Dealogic. Reliance Industries leads the table of borrowers, raising $2 billion for its oil and gas exploration projects, in which 14 global banks participated.
As the world's attention focuses on sustainable sources of energy, especially for emerging economies, Indian power companies are attempting to build on their fledgling success in harnessing wind energy by making larger investments. National Thermal Power Corporation (NTPC), the company that controls close to 80% of the thermal power capacity in India (mostly coal based), has announced a $1.5 billion investment in wind power plants, with the capacity to generate 1,000 megawatts of power. India is emerging as a serious player in the wind power sector and is already the world's fourth-largest producer of wind energy, with total capacity of 10,000 megawatts expected to be in place by the end of this year.
Aaron Chaze