India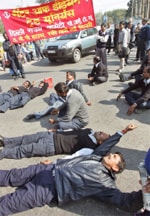 Strikers block
the road into
New Delhis airport

Policymakers finally approved the privatization of two major airports in early Februarythose of Mumbai and New Delhi. This was a long-awaited and contentious development that the labor unions and the governments communist allies had sworn to oppose. A consortium led by Indian conglomerate the GMR Group and including German airport operator Fraport won the New Delhi airport, while another consortium led by Indias GVK Industries and including the Airports Company of South Africa won Mumbai. Even though the airport employees went on strike almost immediately over the fear of job losses, the government has refused to back down and says that the deal is irreversible. The privatization deal includes provisions for the expansion, modernization and management of both airports.
Confidence has increased not only at the government level but at the corporate level as well. Two leading Indian generic pharmaceutical companies are reportedly vying for control of Betapharm Arzneimittel, Germanys fourth-largest generic drug maker. Ranbaxy Laboratories, Indias largest generics maker, with $1.2 billion in revenues, bid 500 million ($593 million), while Dr. Reddys Laboratories bid 450 million.
The British parent company of Betapharm put the business up for sale several months ago, and other firms, including Teva of Israel, have reportedly put in bids, too. Indian generic drug makers have been on an acquisition spree of European and US generic companies for the past few years, and the volume and size of deals have been steadily increasing. Ranbaxy, for example, has received approvals from shareholders to raise up to $1.5 billion for acquisitions.
The key Indian stock index, the BSE Sensitive, continues to rise, topping 10,000 for the first time ever. The market has been building up momentum steadily for months, backed by significant buying from foreign institutional investors. Foreign investors have been pumping almost $1.5 billion a month into Indian equities, driving prices higher.

Aaron Chaze