Russia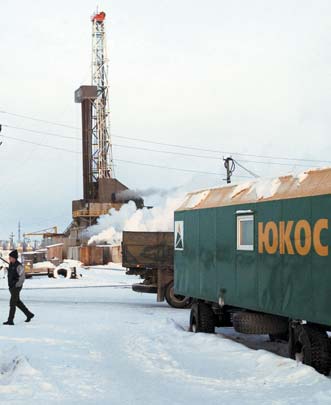 Frozen assets: Yukos continues to flirt with bankruptcy

The Yukos affair continued to dominate headlines in Russia. After warning that Yukos would go bankrupt within a matter of weeks due to the Russian governments freeze on its assets, imprisoned former Yukos CEO Mikhail Khodorkovsky offered to surrender his shares to pay the companys mounting tax debts. Instead, the government moved to shutter production by the company and sell off Yuganskneftgas, Yukoss largest production subsidiary.A consortium of investors led by an ally of the holding company that controlled Yukos, Group Menatep, offered to pay off the companys tax debts and buy out a majority stake, but the Kremlin looked unlikely to act on the bailout proposal.
In part stemming from uncertainty over Yukoss oil production, global oil prices jumped to fresh highs. Shares in Russias largest oil company fell to three-year lows, down 80% from October 2003 highs.
The Russian banking sector suffered its most serious crisis since August 1998 as the meltdown of second-tier institutions Sodbiznessbank and CreditTrust triggered a liquidity crisis that forced Guta Bank, the countrys 22ndlargest bank, to suspend operations.The crisis receded in mid-July after the Russian parliament expedited passage of legislation guaranteeing deposits in banks that were not already part of the obligatory insurance scheme. Statecontrolled bank Vneshtorgbank took control of Guta Bank.
Adding to the general atmosphere of turmoil, the American editor of the Russian edition of Forbes magazine, Paul Klebnikov,was murdered in an apparent contract hit for motives that remain unclear although likely stem from his work as a journalist.The Moscow Times called Klebnikov a victim of the rule of lawlessness that continues to grip Russia.
In a more positive sign for the banking sector, French banking giant BNP Paribas announced it would pay $300 million for a stake in Russian Standard Bank, one of the countrys largest providers of consumer credit.The purchase marks the first acquisition by a foreign group of a Russian retail bank.

Kim Iskyan