India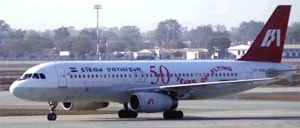 Indian Airlines: Ready for takeoff

Indias reforms continue apace with the governments decision to privatize aviation fuel supply to airports, ending a monopoly by state-owned refiners. The government will buy all the fuel dumps and hydrants from the state-owned refiners at book value and allow oil companies equitable access to the infrastructure. The move should cut fuel prices and increase revenues for the airport authorities.
Ministry officials hope the reforms will eventually prompt much-needed investment in aviation infrastructure. There will be huge spin-off benefits, too, for airline companies that are now approaching Indian and global equity markets for capital. Indian Airlines, the state-owned domestic airline, which is the largest domestic operator in India, has announced an IPO. Though the final size of the IPO has still to be decided, it could be the biggest ever from India, at nearly $2 billion. The government has been inspired by the fantastic response to private sector airline Jet Airways IPO earlier this year. Jets $450 million IPO received nearly $6.5 billion worth of bids, mostly from foreign investors. The other state-owned airline, Air India, is waiting in the wings to announce its IPO, and private sector minnow Air Deccan has already announced a small IPO slated for early next year.
Its not only Indias airline industry that is set to benefit from foreign investment, though. POSCO of South Korea, the worlds fifth-largest steel manufacturer, is looking at investing nearly $3.5 billion to build a steel plant in Indias iron ore and coal rich northeastern state of Orissa. The plant, which is expected to have a capacity of 10 million metric tons, will be one the largest in the country.