China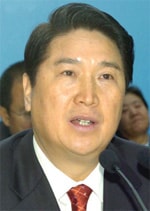 Detained: China Construction Banks Zhang Enzhao

In April anti-Japanese protests in Beijing, Shanghai and Guangzhou further strained the perennially tense China-Japan relationship after Japan approved textbooks that critics claim play down Japans wartime brutality. Tensions further intensified when the Japanese government awarded drilling rights for disputed waters in the South China Sea.
Chinese protesters are calling for a three-month boycott of Japanese goods. China overtook the US as Japans largest trading partner last year, and an effective boycott could damage Japans economic recovery.
Problems continue to surface in Chinas troubled banking sector, possibly delaying plans of Chinas top two state banks to go public later this year. China Construction Banks chairman, Zhang Enzhao, stepped down in late March and was subsequently detained by police. His resignation and detention may be related to a US civil case alleging that Zhang received bribes in excess of $1 million.
Early last year, CCB and Bank of China each received $22.5 billion capital injections and embarked on a series of reforms in preparation for public stock offerings. But several scandalsincluding the discovery earlier this year that 800 million yuan ($97 million) had disappeared from a Bank of China branch in northeastern Chinaindicate that internal controls at Chinas state-owned banks remain weak.
After hitting a six-year low in March, Chinas stock market jumped in mid-April on news that the government may reduce its stakes in several of the countrys largest companies. Government and affiliated bodies hold most shares in Chinas domestic stock market, creating an environment prone to manipulation by those in management positions and government offices. Minority shareholders in such companies have little, if any, influence over business operations.
Chinese companies enth-usiasm for overseas acquisitions appears to be cooling after peaking with Lenovos $1.75 billion purchase of IBMs personal computer business late last year. In mid-April, Shanghai Automotive Industry Corporation (SAIC), one of Chinas top three automotive producers, pulled out of talks over a possible joint venture or acquisition deal with troubled British carmaker MG Rover.

Thomas Clouse