BRAZIL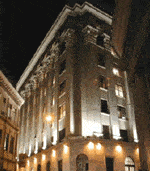 São Paulo stock exchange
Bovespa Holding, which owns the São Paulo stock exchange, raised nearly $3.7 billion in an IPO that ranks as Latin America's largest offering this year. Bovespa sold 250 million shares on October 26, priced at 23 reals per share. Despite the fact that the initial share price, which was upped by 20% just prior to the launch, was at the top of the expected range, share prices soared by 51% during the first trading day.
Goldman Sachs and Credit Suisse were joint bookrunners in the IPO, with UBS Pactual as international manager and Itaú BBA and Bradesco BBI as joint leads. BB Securities, Deutsche Bank, HSBC and Santander were among the deal's underwriters. NYSE Euronext took a 1% stake in the Bovespa at the IPO at a cost of $90 million. Bovespa Holding also controls Brazil's CBLC depository and clearing house.
Bovespa's offering seems to be the beginning of a trend. The Brazil Mercantile & Futures Exchange (BM&FE;) planned an IPO for November 28, expected to raise $2.5 billion. Following the deal, the BM&FE; planned to swap shares with the Chicago Mercantile Exchange (CME) in a transaction that will give the Brazilian exchange a 2% stake in the CME and will, in turn, give the CME a 10% stake in the BM&FE.;
The moves by the exchanges are perhaps indicative of the country's economic strength. In October the central bank acknowledged that strength, ending a two-year interest rate easing cycle. The bank's monetary policy committee, Copom, kept the benchmark Selic rate unchanged at 11.25%. The policy shift comes as analysts warn of an inflationary spike. Although some economists predicted the bank might push for a cut to 11%, Copom directors were unanimous in holding the rate steady.
Antonio Guerrero