China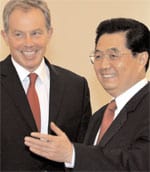 Friends: Tony Blair, with Chinas president Hu Jintao

After a long, tense negotiation period, the EU and China finally strapped together a compromise over textile imports. Britains prime minister Tony Blair claimed the credit for hammering out the final details of a deal that ended the so-called bra wars. The deal would allow textile goods impounded at European ports to be released into the market. Textile-producing countries such as France and Italy had been caught between two rival lobbiesretailers keen to bring in cheap imports from China and textile manufacturers desperate for quota protection from the flood of Chinese products. In order to free up the imports, though, China had to accept that half of the impounded stock would be borrowed from the agreed quota for 2006leaving observers on both sides of the squabble to conclude that the agreement simply shifted the problem into next year.
Hard on the heels of his meeting in Beijing with Tony Blair, Chinas president Hu Jintao set off on a tour of North America. While his trips to Canada and Mexico went ahead as planned, the devastating aftermath of Hurricane Katrina forced US president George Bush to cancel his planned official meeting with Hu. The two leaders were expected to meet, however, at the United Nations summit in New York.
One key area of concern between the two giant nations is Chinas rapidly growing thirst for oil. Both Bush and Hu, then, would probably have sighed in relief when they heard Russian president Vladimir Putins assertions that China would be first in line to receive oil exports from a new pipeline being built through Siberia. Due for completion in 2008, the pipeline initially will carry up to 30 million tons of oil per yeartwo thirds of which is now likely to go to China.

Dan Keeler