BRAZIL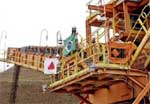 Brazilian mining giant Vale walked away from Xstrata acquisition talks.
Vale, the Brazilian mining giant formerly known as CVRD, decided to walk away from its proposed $90 billion acquisition of Swiss miner Xstrata after both sides failed to reach an agreement on the deal. The transaction would have been the largest-ever cross-border acquisition by a Latin American company. Vale reportedly had $71 billion in bank commitments to close the deal. Both sides left open the possibility of restarting negotiations.
São Paulo's Bovespa stock exchange and the BM&F; futures exchange announced a plan to merge their operations into a new holding company, to be known as the Bolsa Nova. The new combined holding company, which would buy all shares in both exchanges in order to issue new ones, will have a market cap of $20 billion. Bolsa Nova may seek to acquire other Latin American exchanges, with the Mexican Bolsa cited as a prime target. Regulatory approval for the merger is expected in April. Credit Suisse and Rothschild advised the Bovespa and BM&F;, respectively, on the merger.
A proposed revision of Brazil's law governing REITs would add greater depth to the country's nascent real estate capital market. While the current law limits REITs to invest only in actual real estate assets, the revised version would allow them to invest in equity, debt and asset-backed securities issued by real estate companies, among other provisions.
For the first time in nearly three years, the Brazilian central bank reversed its policy and raised interest rates in April. Its Copom monetary policy committee voted unanimously to hike the benchmark Selic rate by 50 basis points, to 11.75%, in a bid to curb inflation. Market analysts had predicted a smaller 0.25% rate increase. Copom members reacted to March's 4.73% 12-month consumer inflation rate, remaining above the 4.5% official target for the third consecutive month. March's inflation figure was the highest since March 2006's 5.32% annual rate.
Santiago Fittipaldi