BRAZIL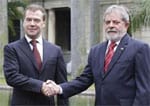 Presidents Medvedev and Lula call for the first-ever BRIC summit.
Eager to maintain its status as Latin America's largest financial institution, Banco do Brasil, Brazil's largest state-controlled bank, announced the acquisition of Nossa Caixa, a bank owned by the São Paulo state government. The move comes on the heels of a merger between rivals Banco Itaú and Unibanco. However, Banco do Brasil's $2.25 billion acquisition led to a drop in its share price, as analysts contend the bank's eagerness led to an overpriced deal.
Banco do Brasil agreed to pay some $35 per share for its 71.2% stake in Nossa Caixa, almost 40% above the closing price for Nossa Caixa shares the day prior to the announcement. The transaction, nevertheless, boosts Banco do Brasil's total assets to around $260 billion, though still 11% lower than combined assets for Itaú and Unibanco. Banco do Brasil is reportedly in talks with other state-owned banks about possible future acquisitions.
South Korea's state-owned Export-Import Bank will provide Vale (formerly CVRD), Brazil's largest iron ore miner, with up to $1 billion in financing. The measure will allow the company to proceed with its $6 billion five-year investment program and gives South Korea a greater role in the global mining sector. Vale had been concerned over its ability to forge ahead with investment plans amid falling iron ore prices and diminished global demand. An estimated 23% of South Korea's iron ore imports in 2007 came from Brazil.
Brazilian president Luiz Inácio Lula da Silva continued to call for an overhaul of the global financial structure to boost emerging markets' role in the International Monetary Fund and World Bank, among other measures. Lula says the Group of Eight is no longer relevant since it does not take into account emerging economies. Meeting in Brazil, Lula and Russian president Dmitry Medvedev called for organizing the first-ever BRIC summit, expected to be held this year in Russia. Lula and Medvedev signed several cooperation accords in the aerospace, nuclear and defense sectors, including one to work jointly on satellite launch programs.
Antonio Guerrero