Brazil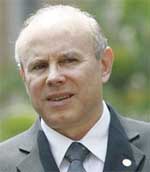 Mantega: Hiking other taxes will make up for shortfall.
With Brazilian legislators scrapping the country's financial transactions tax (CPMF) in December, the government says it must now plug a 40 billion real ($22 billion) gap in the 2008 budget due to lost tax revenues. Revenue from the controversial tax, which critics said had allowed the government to maintain high spending levels, amounted to 1.6% of GDP. According to finance minister Guido Mantega, the government will make up for the shortfall by, among other measures, hiking other tax rates to obtain an additional R$10 billion in revenue and cutting spending by R$20 billion.
Analysts are concerned that the government's decision to increase the CSLL, a tax on bank profits, to 15% from 9% as part of its strategy to boost tax revenues may lead to higher borrowing costs. They argue that the increased CSLL tax rate will be passed on to borrowers in the form of higher loan rates, with increased credit costs, dampening potential 2008 GDP growth.
Despite the CPMF setback, Standard & Poor's affirmed all of its Brazil sovereign ratings in December, with a positive outlook. "Pressure on the ratings will remain on the upside as long as the government carries through with its commitment to its fiscal targets and its broader economic program benefits the country's economic and external dynamics," says S&P; credit analyst Lisa Schineller. Moody's, which rates Brazil just one notch below investment grade at Ba1, had said earlier that an upgrade this year would depend on how it addresses the gap created by lifting the CPMF.
Petrobras, Brazil's state-controlled oil company, unveiled a R$55 billion investment program for 2008, 29% above the R$39 billion it invested last year. According to CEO Jose Sergio Gabrielli, 87% will be invested domestically. Of the total, R$26 billion is earmarked for exploration and production.
Antonio Guerrero