Brazils new government may still have enough wriggle room to implement reforms while keeping voters happy, but time is not on its side.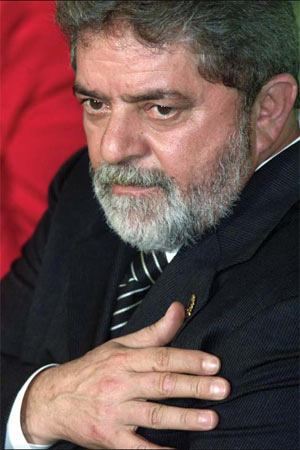 South Americas largest nation is slowly making its way out of an economic red zone as the new administration of President Luiz Inacio da Silva (Lula) walks a fine line to satisfy foreign investors as well as the populace at home.
The leader of Brazils Workers Party took an important step in assuring both sides in late April when he presented Congress with proposals for vital reforms of the social security and tax systems. While the proposals face opposition from members of his own leftist party and will cause pain among voters by reducing pension benefits for civil servants, they demonstrated the administrations commitment to financial health.
Seventy to 75% of the population is still in favor of Lula and is backing social security and tax reform, says Marcelo Salomon, Brazil chief economist for ING, who is based in So Paulo. Its going to hurt certain people, but the Lula administration has managed public expectations through a media campaign.
Theyve been sending positive signals, adds Salomon. Im cautiously optimistic.
The election of the leftleaning Lula last October set the international financial community on edge as they worried he would abandon sound fiscal policy in order to satisfy the needs of the of poor in this nation of 150 million. But since taking office on January 1, Lula has soothed investors nerves as well as those of businessmen at home by taking actual steps to bring the country toward improved fiscal soundness.
So far, not only has [the new administration] talked the talk, but it has also walked the walk, says Marcelo Carvalho, chief economist at Itau Corretora (Itau Bank) in Sao Paulo. The administrations performance has turned out much better than what most observers would have expected not too long ago.
But Carvalho also cautions that the administration has to move quickly with its reform agenda.
Popular support for the new administration is strong, he explains. As with any new administration, however, public support inevitably tends to decline over time from its initial peak, and therefore the time is now to push for reforms at a speedy pace.
Most fears of a possible default on the public debt have receded. In fact, an issue of $1 billion in foreigndenominated bonds was oversubscribed sevenfold when Brazil went to the international credit markets in late April.
It shows they still have access to foreign financing, says Jose Maria Barr ionuevo, di re c t o r o f emerging market strategies at Barclays Capital in New York, adding that the governments respect for the central banks independence so far has kept investors and officials at the International Monetary Fund happy.
April was also a positive month for Brazil when Standard & Poors upgraded its outlook on Brazils longterm local and foreign currency sovereign credit ratings from negative to stable. The New Yorkbased financial ratings agency had downgraded the outlook to negative from stable in July of 2002.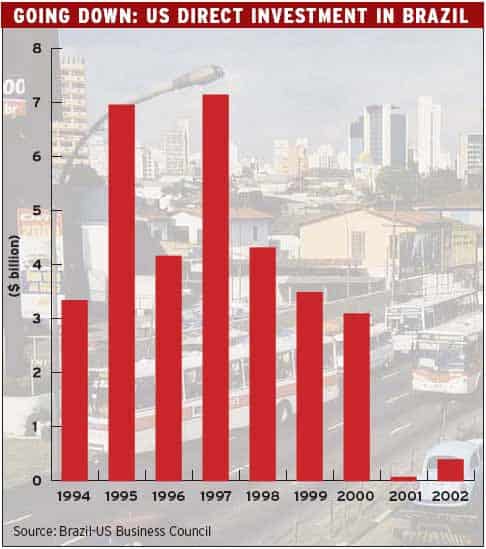 One of the primary reasons behind the upgrade was the governments decision to raise its primary surplus target for the nonfinancial public sector for 2003 to 4.25% of gross domestic product, up from the budgeted 3.75%, says Helena Hessel, a director for sovereign ratings at Standard & Poors in New York. The budget document that Lula presented to Congress in April maintains the higher 4.5% of GDP primary surplus target for 2004 and probably through 2006another move that made analysts at Standard & Poors happy.
The transition process went smoothly and they are taking the policy approachesstrict policiesto move themselves out of debt, adds Hessel.
The primary surplus is the surplus a country may have after interest payments on its debt are subtracted from the expenditures side of the balance sheet. Brazil pays an enormous amount of interest on its debt and raising its primary surplus target indicates the government is dedicated to either cutting expenditures or raising revenuea positive sign for financial analysts.
The financial and business community also saw the budget document as one of the first tests of the Lula administrations determination to adhere to sound fiscal policies that will bring it toward financial health. Congress must approve the budget guidelines by the middle of this year. After that OK, the administration will then submit a 2004 budget to Congress in September.
Yet Arturo Porzecanski, chief economist for emerging markets at ABN-AMRO in New York City, isnt that impressed.
Brazil is still in considerable trouble, says Porzecanski. The good news is that they didnt go bust and theyre not in default. But they averted disaster fairly narrowly.
Porzecanski cited the countrys anemic annual growth rate of 1.5% for 2002 after growth of only 1.4% in 2001, double-digit inflation, high interest rates and large budget deficits as indications of the nations financial woes.
Things could be worse, but they could be a lot better, he adds.
Mark Smith, executive vice president of the Brazil-US Business Council, said the US business community genera l ly feels hopeful about the changes.
US investment in Brazil has declined since 2000 as the governments priv a t i z a t i o n p r o gr am stalled, the economy faltered and foreign investors worried about the implications of a leftist party running the country, says Smith, who is based in Washington, DC.
People sat on their hands waiting to see what Lula would do, Smith adds. Overall, theres a great relief and a new optimism about the possibilities of the Lula administration.
Another positive signal that has calmed the fears of international financial markets is the first step toward a fiscal responsibility law that guarantees the autonomy of the countrys central bank.The passage of the law is an arduous process that requires an amendment to the constitution. Even though analysts dont expect the law to be passed until 2004, Lula successfully took the first step in that process when the House of Deputies approved the constitutional amendment in April.
The vote on the constitutional amendment still requires Senate approval and then must make its way through both arms of congress once again. Then the legislation setting up the actual fiscal responsibility law can be presented to the legislative branch.
Theres already a lot of respect for the central banks independence so the law is not such a big priority right now, says Barrionuevo. Im very encouraged by what theyre doingthings are going remarkably well.

Paula L. Green