Brazil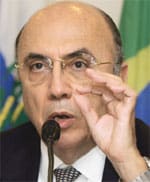 Brazils central bank president Henrique Meirelles

The Brazilian government may have put itself in a Catch-22 situation, as it fights inflation through interest rate hikes but chills domestic demand and cools economic growth prospects. While Brazils hyperinflation of the mid-1990s remains a bogey for the administration, local business and labor leaders charge that high interest rates are punishing jobs and investments.
The central banks monetary policy committee (Copom) has been raising its Selic benchmark rate since September 2004, taking it to a 17-month high of 19.25% in March from a low of 16% in May 2004. While the hikes aim to keep inflation under control, observers contend that the governments 5.1% inflation target for 2005 may be ambitious. They point to a 15% minimum wage hike and salary increases for judicial workers as ways in which the administration may itself be fueling inflation.
There are signs that inflation is already stabilizing, though, having risen by a modest 0.58% in January and 0.59% in February. That still brings annual inflation to 7.4% for the 12-month period to February, which is higher than the stated 2005 target but below last years 7.6% and 2002s 12.5%. Copom is expected to increase rates yet again in April, to a hefty 19.5%, in what may be the last upward adjustment for the year.
In late February, an OECD report on Brazil noted, among other things, that lack of credit and high interest rates could threaten the countrys economic recovery by halting investments.
Meanwhile, Congress in March revived a decade-old debate on granting the central bank autonomy. Opponents argue that central bank directors must be accountable to the government in order to ensure that monetary policy remains in line with public and private sector interests.

Santiago Fittipaldi