China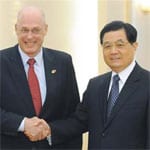 Treasury secretary Paulson and Chinese president Hu vow to fight protectionism.
China has increased export tax rebates and depreciated the value of the yuan relative to the US dollar in recent weeks, prompting fears that protectionist pressures could be taking hold in the world's fastest-growing major economy (see cover story, page 20). Neither of the two issues was resolved at the fifth China-US Strategic Economic Dialogue, although representatives from both countries pledged to fight protectionism. The meeting was the last for outgoing US treasury secretary Henry Paulson, who proposed the semi-annual meetings in 2006. The dialogue did yield some results, including joint environmental commitments, an agreement providing greater foreign access to China's bond market and a pledge for the two countries to provide global markets with $20 billion in credit.
China will probably begin issuing licenses in the next month for third-generation (3G) mobile technologies. Industry restructuring and test runs of China's domestically developed TD-SCDMA standard have slowed the licensing process. China Mobile, the world's largest wireless service provider, is offering the TD-SCDMA-enabled 3G service in select markets, but customer growth has been slow, partly due to the low number of mobile handsets enabled to use the standard. China Mobile's domestic competitors, still in the process of restructuring, will likely use foreign 3G standards for their networks. China's reluctance to issue 3G licenses has prompted some to speculate that the government is hoping to get a head start on fourth-generation mobile technology.
China's first private airline, Okay Airways, moved up the date of a planned one-month suspension of passenger flights in early December after domestic airports, worried about the financial status of the company, demanded cash payments for fuel. The company, founded in 2005, owns 11 planes that run more than 20 domestic passenger routes and is a cargo shipping partner of FedEx Corporation. Okay's cargo operations will continue uninterrupted. China's larger airlines are facing similar financial difficulties but have been propped up by expectations of a government bailout. Such a bailout would not extend to small, private carriers such as Okay, however.
Thomas Clouse