China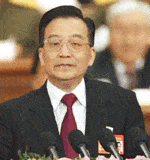 Chinas premier, Wen Jiabao


The annual meeting of the National Peoples Congress (NPC) convened on March 5 with rural issues topping the agenda. Rural land seizures and a widening urban-rural income gap fueled the majority of the 87,000 protests in China in 2005, and lawmakers are anxious to protect villagers from local officials and business developers who appropriate land without adequate compensation. Delegates to the congress also discussed establishing medical insurance plans and rural banking cooperatives. In his opening speech, premier Wen Jiabao pledged to scrap agricultural taxes and increase investment in education and rural infrastructure. The NPC, which meets in the first quarter of every year, is Chinas highest law-making body.
Chinas largest bank, the Industrial and Commercial Bank of China (ICBC), has chosen Merrill Lynch, Credit Suisse and Deutsche Bank to underwrite its Hong Kong IPO, which is expected to raise around $12 billion. China International Capital, in which Morgan Stanley holds a 34% share, and ICBCs own investment banking arm, ICEA Finance Holdings, will also work on the deal, which could yield $300 million in underwriting fees. ICBC is expected to sell 10% to 15% of its stock.
More than 20 Chinese companies have formed an association to encourage the use of WAPI technology, according to state-run Xinhua news. Wireless authentication privacy infrastructure (WAPI), is a Chinese-developed wireless alternative to Wi-Fi. China claims that WAPI is a more secure wireless standard.
The shareholders of China Aviation Oil (Singapore) Corp. voted in a new board of directors in early March and approved a restructuring plan that should allow the companys stock to be traded again by the end of the month. Trading of the companys stock was halted in November 2004 after the company lost more than $550 million in the Singapore derivatives market.

Thomas Clouse