China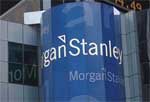 Morgan Stanley: Subprime losses have been plugged by China Investment Corp.
China will allow foreign brokerage firms to play stronger roles in the country's securities markets, according to new guidelines that took effect at the beginning of the year. Security firm joint ventures can now sponsor and underwrite stock and bond offerings, the rules said. However, foreign firms can still own only up to one-third of joint-venture brokerage firms, and those joint-venture companies are prevented from trading domestic A-shares. Foreigners can also buy strategic stakes in listed Chinese brokerages, which have more freedom to trade than joint-venture companies. These stakes are capped at 20% for one firm, however, and total foreign ownership is limited to 25%.
China Investment Corp., the investment fund formed to manage a portion of China's foreign exchange reserves, announced in December that it would invest $5 billion for a 9.9% stake in US investment bank Morgan Stanley. The deal marks the third major investment for China Investment Corp., formed in September of last year, which already owns stakes in US-based private equity company Blackstone and China Railway Group, listed in Hong Kong. Morgan Stanley lost $3.6 billion in the fourth fiscal quarter after writing down $9.4 billion in losses due to subprime and other mortgage-related investments.
China's leading automotive company SAIC Motor will merge with smaller rival Nanjing Automobile Group, the parent companies of both firms announced in late December. The merger is an important step toward the creation of a national Chinese automaker powerful enough to challenge multinational rivals at home and in overseas markets. Currently, more than 100 domestic companies produce automobiles in China, with SAIC's joint-venture models capturing significant portions of the fragmented market.
China will begin its first nationwide survey of pollution sources in February, state-run Xinhua news agency reported last month. Data will be collected in the first half of this year, analyzed in the second and released, after receiving approval from China's State Council, in 2009. China's rapid development has created some of the world's most polluted cities and left many of the country's residents without access to safe drinking water.