CHINA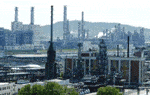 PetroChina's stock soared in initial trading on the Shanghai stock exchange
China's state-owned energy giant PetroChina Co. in early November surpassed ExxonMobil to become the world's most valuable company. Shares of PetroChina rose from 16.7 yuan to 43.96 yuan during their initial day of trading on the Shanghai stock market, making PetroChina the first company in history to reach the $1 trillion valuation mark. The stock offering raised 66.8 billion yuan ($8.97 billion) for PetroChina, topping the IPO of China's Shenhua Energy to become the largest so far this year. China's domestic stock market has soared by more than 400% in the past two years, giving China five of the world's largest 10 companies by market valuation.
China marked another significant step in its space program in early November when the country's first lunar probe entered into orbit around the moon. The probe will remain in orbit for more than a year to conduct research.
China will spend $14.5 billion to clean up Lake Tai, a famous lake polluted in recent years by numerous chemical companies that operate along its banks. The announcement of the cleanup comes amid pledges by President Hu Jintao and other government officials to improve environmental conditions in China. Lake Tai is a sensitive issue for local authorities, as one environmentalist, who has warned of Lake Tai's increasingly severe environmental damage for many years, was sentenced in August to three years in jail for blackmailing polluting companies.
Australia announced a nationwide ban on Chinese-produced toy beads after paint used on some beads was found to metabolize, once ingested, into a dangerous drug. The toy's importer, Moose Enterprises, voluntarily recalled the product, called "Bindeez," in Australia. The company also said that use of the dangerous chemical was most likely confined to products in Australia, but many companies in other markets have also pulled Bindeez from shelves and online marketplaces. China has become the focus of many safety-related controversies in recent months, with products ranging from prescription drugs to toy trains facing recalls.
Thomas Clouse