China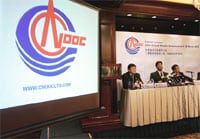 Oil giant CNOOC joined the rush to snap up foreign assets

Chinese companies continued to demonstrate their economic prowess and enthusiasm for expansion abroad with several headline-grabbing bids in June. US-based oil and gas producer Unocal announced on June 22 that it had received an offer of $18.5 billion to be acquired by state-owned Chinese National Offshore Oil Company (CNOOC). If successful, the deal will rank as the largest overseas acquisition by any Chinese firm. CNOOCs bid comes less than two weeks after the Federal Trade Commission (FTC) approved an earlier agreement for US-based Chevron to purchase Unocal. CNOOC will take on significant debt and face possible US regulatory hurdles if Unocal accepts its offer.
In another highly publicized move, Chinese appliance-maker Haier led a group of investors in a $1.28 billion offer for US-based Maytag Corporation. Haiers offer, like that of CNOOC, challenges an earlier purchase agreement with an American firm. If it successfully passes due diligence and approval procedures, the acquisition will strengthen the Chinese companys brand name and international distribution networks.
While Chinese companies look for investments abroad, foreign banks continue to break ground in China. Bank of America announced on June 16 that it would pay $3 billion for a 9% stake in state-owned China Construction Bank in the single largest foreign investment in Chinas banking sector. Bank of America can also increase its ownership to 19.9% over the next five and a half years. According to its website, Switzerland-based UBS is also considering a $500 million investment in Bank of China, another of Chinas state-owned banks.
China has announced that it will introduce a new textile quota system as part of a deal brokered with the European Union in mid-June. The new system, which takes effect on July 20, will set limits based on each companys exports during the previous 12 months. China eliminated its textile quotas at the beginning of the year, but surging trade deficits have fueled support for trade restrictions in the US and the EU. The new quotas will diffuse tension with the EU and may facilitate further negotiation with the US, which imposed its own trade restrictions in May.
Chinas disease control system is again the focus of controversy, more than two years after the international community criticized the countrys handling of the SARS crisis. Recent media reports have alleged that the Chinese government encouraged farmers to give the anti-viral drug amantadine, which is used to treat the flu in human beings, to poultry. The use of amantadine on animals violates international guidelines and may have led to the resistant forms of the bird flu virus that have killed people in Cambodia, Thailand and Vietnam. The Chinese government has denied the accusations and promised to investigate.