Brazil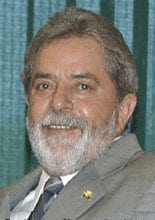 Brazilian President Luiz Incio Lula da Silva is feeling the heat from political opponents, as his ruling coalition begins to unravel. The decision by the PMDB Party to leave the government last December dealt a severe blow to the administration's plans to broaden its coalition during the second half of its term and ahead of the October 2006 presidential elections. However, political analysts say the PMDB's departure poses little threat to a Lula re-election.
The PMDB, Brazil's largest political party, joined the coalition in January 2004 after Lula handed it the communications and social security ministries in a quid pro quo arrangement. Under a proposed cabinet reshuffle, the party was widely expected to increase its influence within the administration. Yet, with the PMDBa traditional foe of Lula's PT Workers' Partymired in internal disputes, factions within the party chose to pursue a presidential campaign of their own. The move, nevertheless, could delay the president's reform agenda as his congressional support is tested.
Meanwhile, Lula's popularity ratings remain strong on the heels of the country's steady economic recovery and should carry him comfortably to a second four-year term. The Ministry of Trade and Development announced that Brazil's trade surplus hit a record $33.7 billion in 2004, a hefty 36% increase over 2003. Exports rose 32% year-on-year, to $96.48 billion, while imports rose 30%, to $62.78 billion. Moody's raised Brazil's ratings outlook to positive from stable in January, increasing its chances for a further ratings upgrade. Moody's last upped Brazil's rating from B2 to B1 last September. The rating agency says its outlook change was prompted by the country's improved debt situation, supported by increased export revenues. Standard & Poor's rates Brazil one level higher than Moody's, at BBB-.
Positive economic results have done little to keep cash-strapped Varig Airlines flying. The carrier has presented a 6 billion real ($2.22 billion) debt restructure proposal, of which more than 50% is reportedly owed to government agencies. If the government does not accept its offer, company officials say the next step will be to initiate a plan to eliminate its domestic routes.

Santiago Fittipaldi