Making it Pay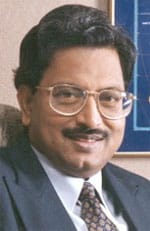 B. Ramalinga Raju

Satyam Computer Services started as a software services provider in 1988 in Indias twin cities of Hyderabad and Secunderabad. Today, those cities rival Bangalore as the information technology capital of India, thanks in large part to the fast growth of Satyam, which is now a global IT consulting and services provider with 21,800 employees in 46 countries.
Satyam helps companies compete globally by integrating business processes and technologies across enterprises so that IT resources provide a higher return on investment, says B. Ramalinga Raju, founder and chairman.
We enable our 390 customers to create and share knowledge across their organizations so they can work smarter and build on experiences instead of repeating them, Raju says.
Satyam provides the right mix of offshore and onshore capabilities, drawing on alliances with 50 technology companies to serve a growing range of industries from automotive to telecommunications. In April 2005, Satyam acquired London-based Citisoft, an investment-management consulting firm, to expand its expertise in financial services.

Gordon Platt