Russia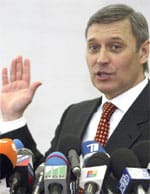 Kasyanov: Under pressure

In the latest round of oil and gas industry consolidation, Gazprom received Russian President Vladimir Putins official blessing to take over Sibneft, the countrys fifth-largest oil producer. Meanwhile, Sibneft announced it would pay out a record $2.3 billion dividend, indicating to some analysts that a deal is likely as the companys majority shareholders seek to bolster their cash holdings before a sale.
Meanwhile, the parade of Russian IPOs continued, as Novatek, the countrys largest independent gas producer, raised $966 million on the London Stock Exchange in a sale that was more than 10 times oversubscribed. Despite being priced at the high end of the targeted range, shares still rose more than 13% during the first day of trading.
Foreign investment in the Russian beer sector continued, as InBev agreed to buy Tinkoff, a high-end producer, for $202 million. The purchase comes on the heels of the sixth acquisition by Heineken in Russia, of Baikal Beer.
One man who wont be drinking a toast is former Prime Minister Mikhail Kasyanov, who earlier in the year indicated that he might be interested in running for President in 2008. Kasyanov was put under investigation for fraud relating to his below-market acquisition of a government holiday house. Kremlin-watchers suggested that the investigation was a warning to Kasyanov to stay out of politics, even though the chances of the tainted and unpopular Kasyanov achieving any sort of political momentum are widely regarded as slim at best.


Kim Iskyan