Russia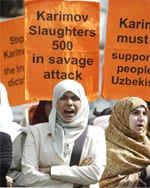 Protesters in Uzbekistan

A spate of high-level diplomatic contacts between the United States and Russia underscored Americas harder stance toward the Kremlin. During visits to Russia in early May, both Secretary of State Condoleezza Rice and President George W. Bush took Russian President Vladimir Putin to task for his policies of centralizing power, clamping down on the independent media and his anti-oligarch campaign.
After months of uncertainty, in mid-May the Russian government announced that it would scrap plans to merge state oil company Rosneft with gas giant Gazprom. Instead of merging the two companies to raise the states stake in Gazprom to a majority holding, the government will pay some $7 billion for a 10.7% share held by the gas giants subsidiaries. The move should pave the way to the long-awaited liberalization of the market for Gazprom shares.
The spate of Russian corporates raising capital on international markets continued, with Pyaterochka Holding, the countrys largest supermarket chain, raising nearly $600 million in early May by selling a 30% stake to investors. Shares were sold at the bottom of the targeted price range but were nevertheless at a valuation premium to peers. A few weeks earlier carmaker Severstal-Avto raised $135 million in an IPO, although it also was forced to sell shares below its targeted price level. Meanwhile, Russias largest steelmaker, Evrazholding Group, announced plans to launch an IPO.
As investors awaited with baited breath the verdict in the trial of former Yukos head Mikhail Khodorkovsky, markets were shaken in mid-May by the announcement that electricity monopoly Unified Energy Systems faced a $131 million back-tax claim from 2001. While Putins control over his own tax authorities was beginning to look shaky, his influence in Russias backyard was also coming under renewed threat with unrest rocking Uzbekistan, as press reports indicated that hundreds died in anti-government protests.


Kim Iskyan