MIDDLE EAST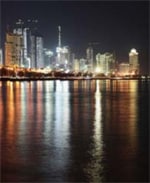 Dubai's International Financial Exchange: Simplifying access.
In an effort to stimulate more trading by local investors, the Dubai International Financial Exchange (DIFX) is now allowing companies to list, trade and clear in UAE dirhams, as well as dollars. The exchange has also added Sunday trading. In addition, the DIFX has created a derivatives platform for single-stock futures and index futures, with options trading planned at a later date.
The DIFX, which sold a 33% stake to Nasdaq earlier this year, is simplifying access for retail investors. It is also negotiating with Nasdaq OMX to create a fast-track process for secondary trading of US-listed companies. Jeffrey Singer, former head of global business development at Nasdaq, became chief executive of the DIFX in July. "We have a lot of institutional liquidity but need to attract retail liquidity," he explains. The exchange, which opened in 2005, has 16 listed companies. "Our goal over the next few years will be to increase the number of companies with secondary listings and grow and expand the exchange," he says.
The current shift in capital flows gives Dubai and the UAE an opportunity to strengthen its position as a global economic and financial hub, says Omar Bin Sulaiman, governor of the Dubai International Financial Center (DIFC). Sulaiman says the DIFC has begun a strategic project to strengthen links between emerging markets. "We are part of the global community, we are learning, and we are aware," he told a recent conference in London. "Hope in the global financial sector is with emerging markets."
Meanwhile, monetary authorities throughout the Gulf have taken steps to boost liquidity. In Kuwait, authorities stepped in to rescue Gulf Bank, which sustained losses from derivatives trades. Also, the Kuwait Investment Authority injected funds into the falling stock market.
Gordon Platt