China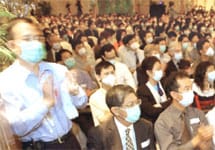 Another public health scare in China

In a long-awaited move, the Chinese central bank modified the yuans exchange rate on July 21 for the first time in a decade. Chinas currency will now no longer be pegged directly to the US dollar but will instead be tied to an undisclosed group of currencies.
While the decision to move to a more flexible pricing regime was praised both at home and abroad, the 2.1% revaluation may not be enough to satisfy critics of Chinas monetary policy. Most observers expect further exchange rate adjustments, despite statements from the central bank seeking to quell such expectations.
In June, the Bank of Communications also made a long-anticipated move when it became the first of mainland Chinas banks to launch an IPO, which raised US$1.9 billion on the Hong Kong stock market. The bank was the most successful of several Chinese companies to list in Hong Kong this summer. Energy company China Shenhua raised almost $3 billion in its huge IPO. Pricing for the companys stock, however, was lower than expected and dropped further during the first day of trading. Chinese shipping company COSCO and real estate company R&F; Properties both met with lukewarm receptions due to concerns that Chinas economy may be cooling.
Baidu, Chinas most popular Internet search engine, sold more than $100 million in shares on the US-based Nasdaq (see EM Investor, page 12). Early trading in the shares pushed the companys valuation to stratospheric levels last seen at the peak of the Internet boom in the US. Despite having revenues of only $13 million last year, Baidu was valued at almost $4 billion by the end of the first days trading. Its price continued to rise the following day, although buying was tempered by rumors that short sellers were eyeing the stock.
Public health concerns have been competing with investment opportunities for media attention following an outbreak of a lethal variety of swine flu. By the early August the mysterious strain of Streptococcus suis bacteria had infected 198 people, killing 36 of them. The Chinese government has responded to the outbreak by sending vaccines for 350,000 pigs to Chinas most heavily affected province of Sichuanand promising enough doses to vaccinate 10 million pigs.

Thomas Clouse