India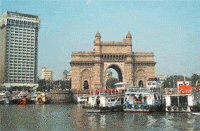 Mumbai, Indias financial hub

Indias biggest corporations brought some welcome cheer to the country as they announced interim results this summer. Market sentiment had been hit by a volley of terrorist attacks but rebounded as the first results trickled in. Infosys, Indias third-largest software services company, reported a 50% increase in earnings for the quarter at $176 million on its largest-ever quarterly revenue of $670 million, significantly beating market expectations.
Infosys is considered an earnings trendsetter for the other software services stocks, and considering the weight that Indian IT companies have in the indexes, it was small wonder that the markets rose strongly on these numbers.
The Indian industrial sector has also been extremely robust in the first quarter of 2006, growing at 10.4%, and it is expected to sustain that growth for the next several quarters. As a result, the engineering, capital goods, construction and electrical equipment sectors have been spectacular gainers. For the first six months of 2006, the Indian capital goods sector has grown by 136% in terms of orders booked.
These sectors booked a record total of $8.5 billion, sharply up on the $3.6 billion of orders received in the corresponding period last year. More than three quarters of the orders placed have been to engineering and construction companies covering highways, power, water and irrigation projects and reflects the fact that infrastructure needs are being addressed rapidly.
The massive rise in spending is not spread evenly throughout the country, though, and a handful of Indian states are way ahead of the game in attracting both foreign and domestic investments. Maharashtra, of which Mumbai is the capital, is implementing plans to establish 48 special economic zones (SEZs) that will bring in billions of dollars. Over the next three years 11 of these SEZs will bring in $14 billion invested by a mix of domestic and foreign investors.

Aaron Chaze